: Ok, I'll grant you that. They could have come up with a better way to get the
: Chief out of those situations. I still don't think it was a damning flaw
I hope it's not too great of an exaggeration to say that the villain makes the plot.
: Well, it never does say exactly what kind of control the Didact has over
: Requiem. I don't think he had total control.
I never saw anything to indicate otherwise.
: That section in Shutdown
: where he moved the floor could have been a retraction of the parts.
Huh?
: Not really sure what you're talking about here.
Any machines left behind to maintain Requiem have the capability to reproduce a wide variety of Forerunner technology. This includes weapons, like those massive cannons you took out with the Mammoth.
If they can build a Slipspace drive, the Didact can use it to cripple the Infinity. If they can't, then he can try to build an intrasystem shuttle and see how well the Infinity dodges in confined spaces.
Of course, I guess that nothing the Forerunner can muster will penetrate the Infinity's ridiculously thick ONI-issue plot armor.
: You bring up a good point here and below to Vagueness when you mention how
: long it could take to Compose the entire Earth. Still, a lot of it's
: conjecture. Well thought out conjecture, sure, but conjecture nonetheless.
No, I guess that 343i was incompetent, and the way they depicted Composing isn't nearly how it actually works.
: I know you're going to disagree with this, but I'm going to say I think the
: Didact DOES rise above bare tropes even though he does have some. His
: whole point is that he doesn't think Forerunners should have to recede as
: a society. Hell, the Forerunners are the only reason humanity is around
: anymore because of the Forerunners' own sacrifices. Now he sees his empire
: dead, and humans running around Reclaiming their work for their own.
Jokes aside, that would be an interesting way to develop the Didact's character, but I don't think that's quite what 343i was going for.
: I'd argue that he didn't really act too different from how he did in Cryptum.
: We only saw him for a relatively short time, and he's already hinted that
: he didn't like humans with the possible exception of Chakas and Riser.
: Likely his FULL character change will occur in Silentium.
In the books, the Didact was dismissive of the Humans. But honestly, the human species were primitives at the time and their ancestors had killed his children, which was still a recent memory. It was a surprise to hear him preach about how we have failed because we haven't subjugated the lesser races.
You hear that? That's the Forerunner supremacist saying that Humans ought to be on top.
>.<
As far as racist/supremacist villains go, Didact isn't even in my top ten.
As for Silentium. You understand how the abrupt character change from the books feels like sloppy writing? Do you understand how "Silentium will explain it" feels like more of the same retroactive justifications that 343i has been excusing its horseplay with for the past 3 years?
You understand how I'm reluctant to read a book that makes the Didact look like the Wicked Witch of the West spying on Dorothy?
: Not sure if you meant it, but that sounded REALLY condescending. :(
Yes, it was.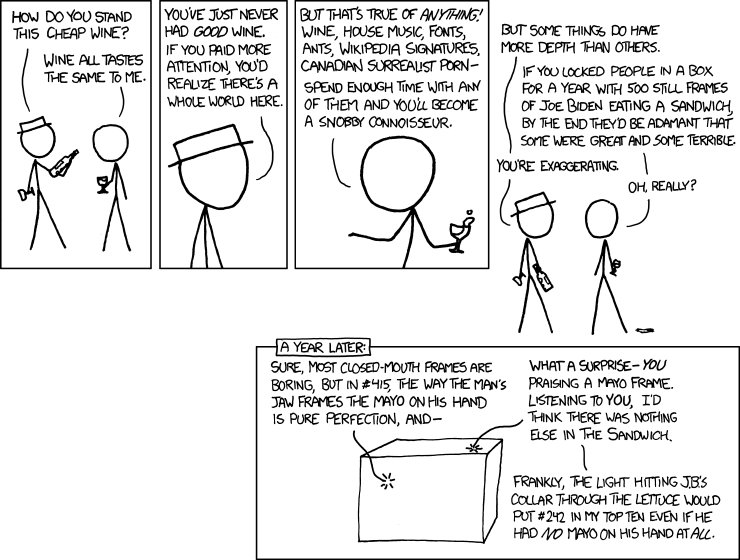 I reread that before posting, and I didn't like how it sounded, but I wasn't sure about the best way to phrase it.
But it's the truth. Some people enjoy a wide variety of media, while others are picky. Some aren't even consistent in what they like. Hell, I greatly enjoyed the original Battlestar Galactica, but Star Trek? Ugh.
: Well, as an avid anime fan, I have to say that's a real shame to swear off an
: entire medium. There's a lot of good stuff there.
Oh, I haven't sworn off the whole medium. Ghost in the Shell and its spinoffs are good, and...
um...
Yeah, that's about it. Watched an OVA called "Gunsmith Cats" or something, and that turned out alright.
: *reads post to Vagueness
: below* If you DO want recommendations, let me know. ;)
Go ahead. A friend roped me into watching the first eight episodes of Tenga Toppen Gurren Lagan this weekend, so it's not like I can get more miserable.
: To bounce off what you and I said as aspiring writers: One of the things I've
: learned is that every piece of work has good and bad parts. You have to
: appreciate what works and identify what doesn't. And, going on from that,
: I tend to appreciate what something does right rather than obsess with its
: missteps. This only changes if the missteps are egregious. This isn't to
: say that I ignore them, mind you. That's my philosophy on the matter.
Hey, I'm capable of overlooking the flaws in a work as well. I just have different tolerances than you do.
The question is, do I ever think "This could be better if the writers did X instead" while reading a book, watching a movie, or playing a game? Halo 4 failed that test on too many levels.
Some of the missteps that I 'obsess' about are problems I see as endemic to science fiction, or simply a big neon warning sign of lazy writing.