This is part 2 of a post "series."
Part 1.
And here's a similar post for
ODST.
//============================
Alright, so we left off on Long Night of Solace, where we punched an elite shipmaster in the face and then sent his corvette to go do funny things to the nearby enemy flagship. After plumetting quite a few miles to Reach's surface, Noble Six walks to the city of New Alexandria on a damaged leg, and is in good health by his arrival. Better yet, he comes just in time to dramatically run up a hill overlooking the besieged city in slow-motion.
Let's enter the level known as Exodus!
Images link to larger images.
//============================
The city of New Alexandria is a shining jewel of black and white structures, built from large curved surfaces.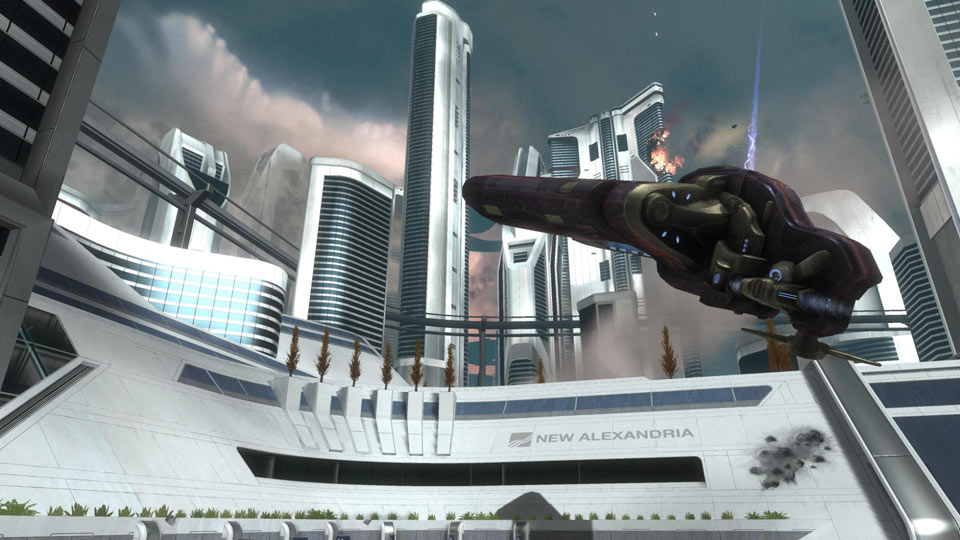 One thing I noticed when combing through Exodus in theater is that a lot of the water that looks like a totally flat surface actually is animated.
Much of the level is a climb up and around the Traxus tower. I'm not a big fan of how some of the lower ares of this climb look, but the tower itself is pretty neat.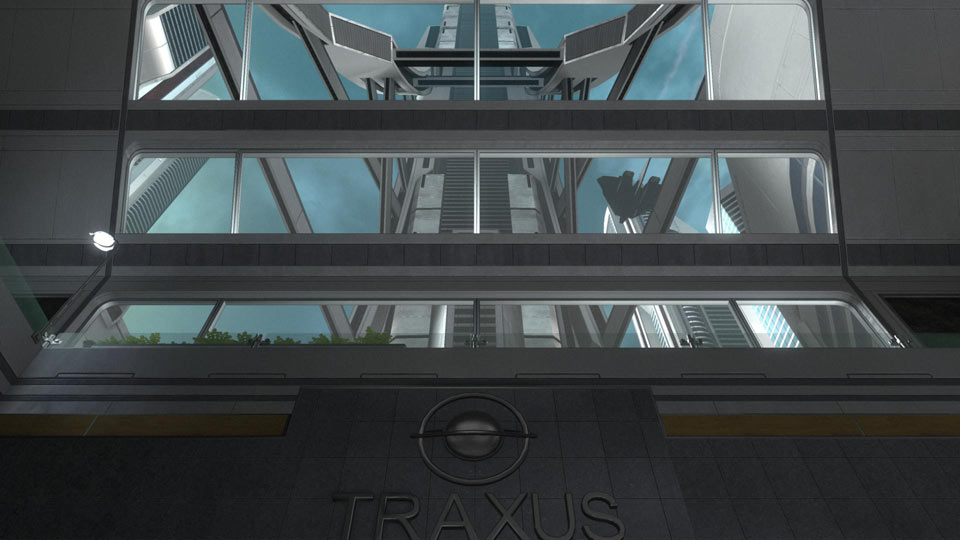 Another view of the tower.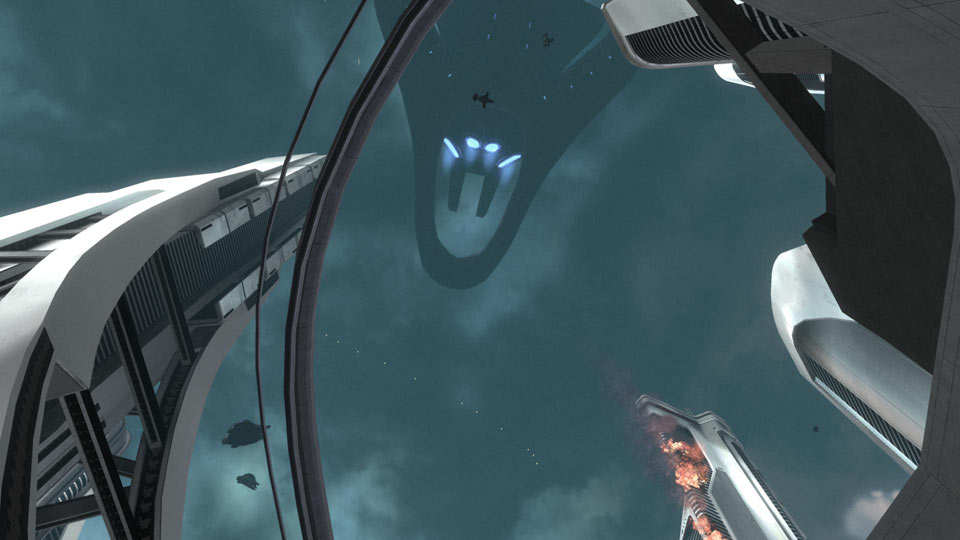 The climb up the tower is made easier by poor decision making on part of our enemies.
However no amount of brutes sticking themselves will allow our daytime campaign to liberate the city.These Covenant are going to burn the city and then glass the entire planet! All that's up to us is how we choose to leave. Which, as night falls, brings us to the city's higher altitudes in the level called New Alexandria.
//============================
At the start of this level, we can take our time to look around. A large portion of the city still stands, albeit in a damaged state.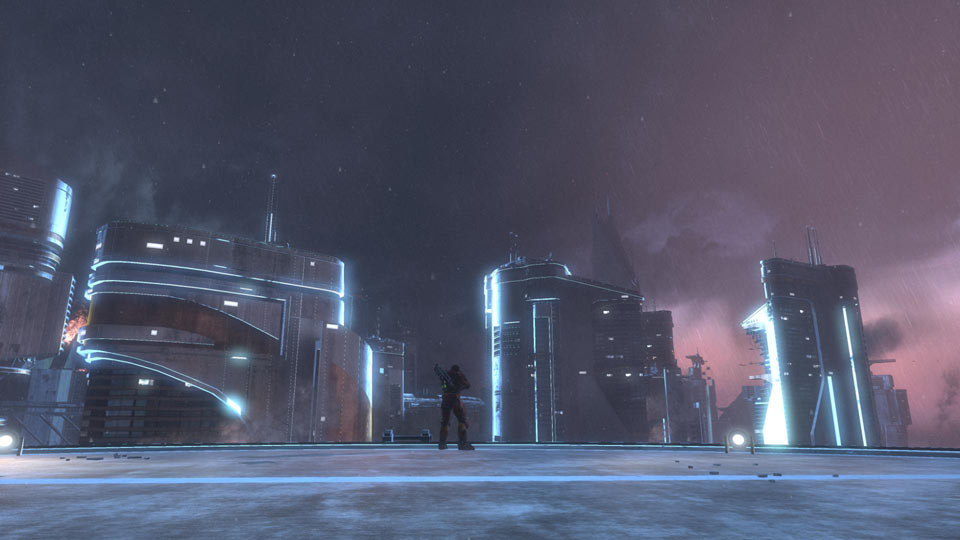 "A damaged state" might be putting it lightly for some of these buildings.
Time to take out some comm jammers. This engineer really doesn't seem to want to be a part of events...
The Covenant have defensive forces around their jammers and attempt to ambush us on multiple occasions, but we have something to say about that.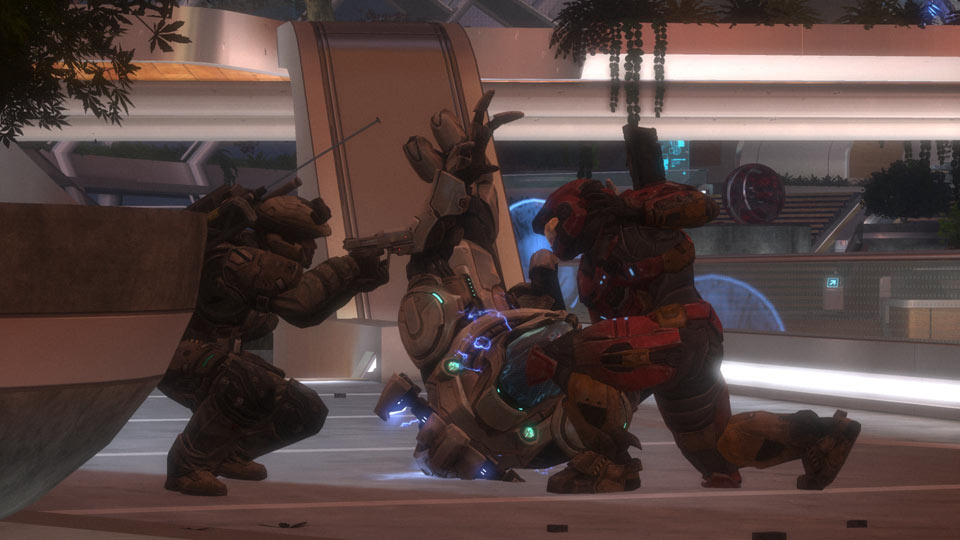 First glassing IN 3D? Me too.

//============================
The glassing extends well beyond New Alexandria. Back at Sword Base, the melting ice raises the seas, and ashes rain from a burning sky.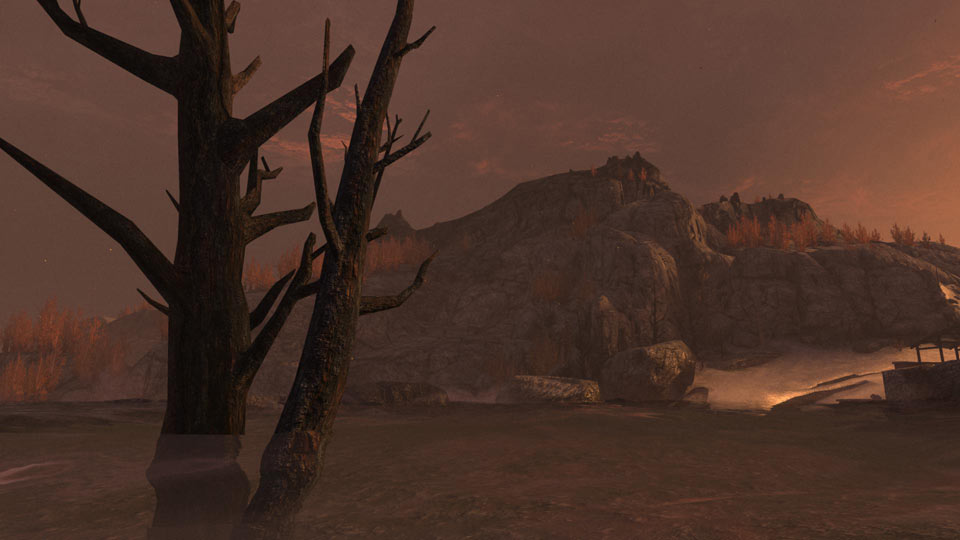 In the midst of these collosal events, smaller forces still grind each other down, and we make our way through the end of the world in an abandoned engine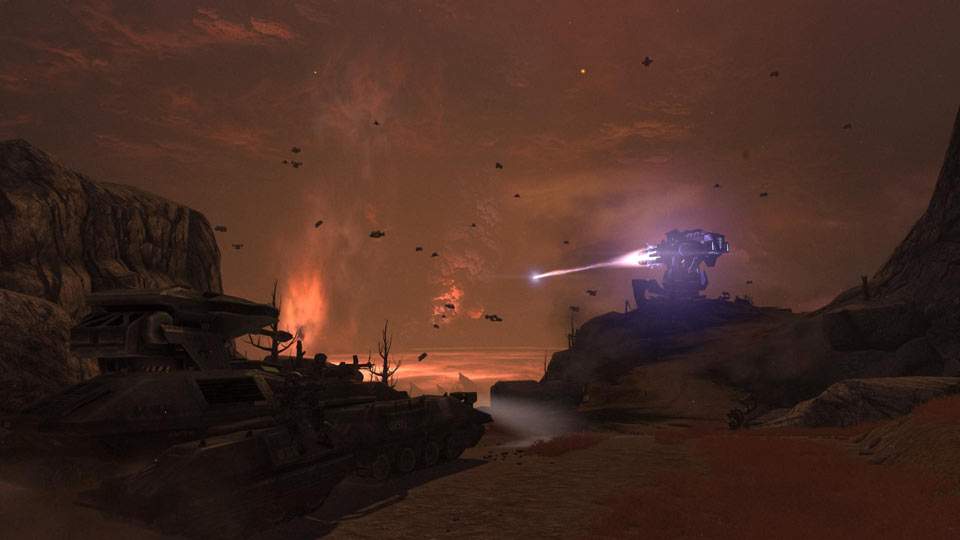 It's an odd combination of desperate action and complete serenity.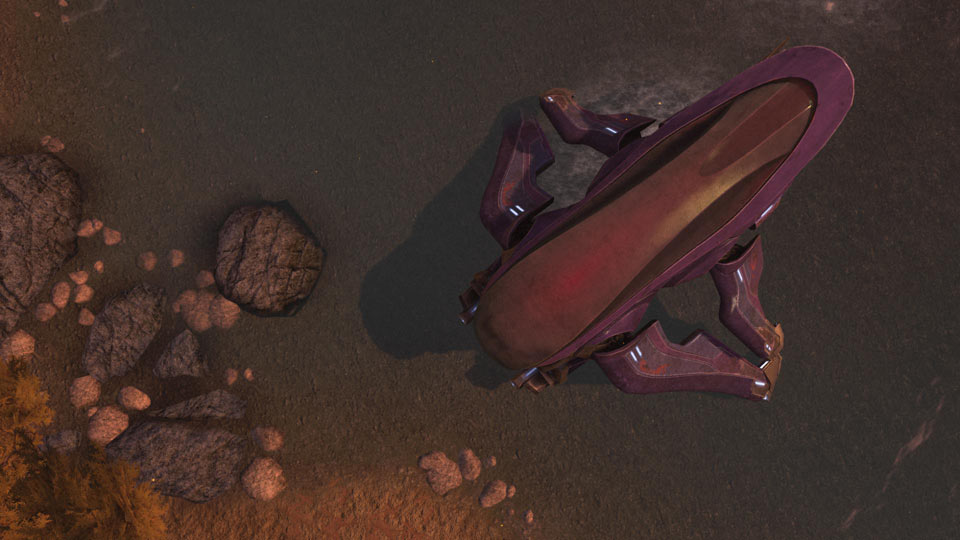 //============================
After getting to Sword Base, things happened underground. When we resurface, we have somewhere to go.
Specifically, we want to go to that big block over there:

First, we try driving. Or at least I do. Emile's approach to transporting himself is... unique.
It's a long hike to the Autumn. There are some beautiful caves along the way... but they're full of buggers.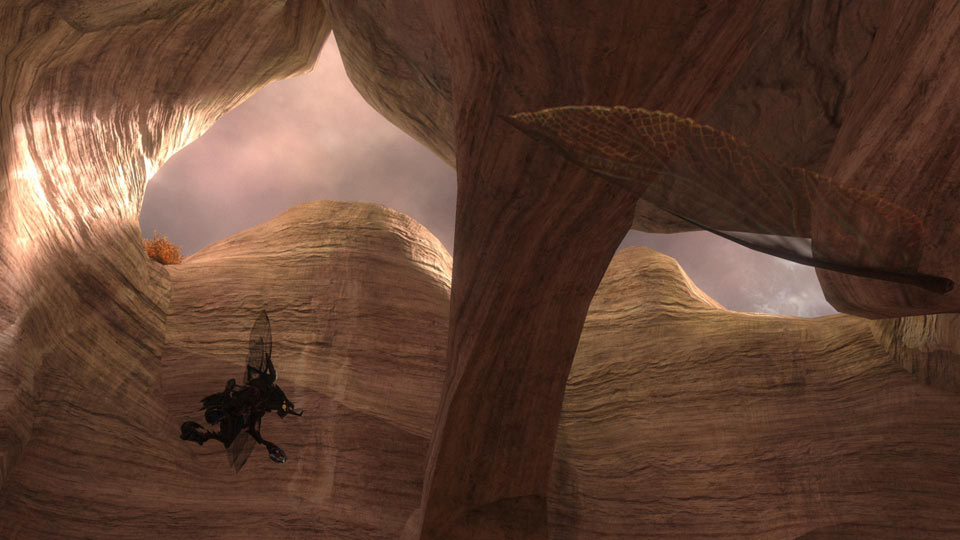 One of Reach's classiest trees is in these caves.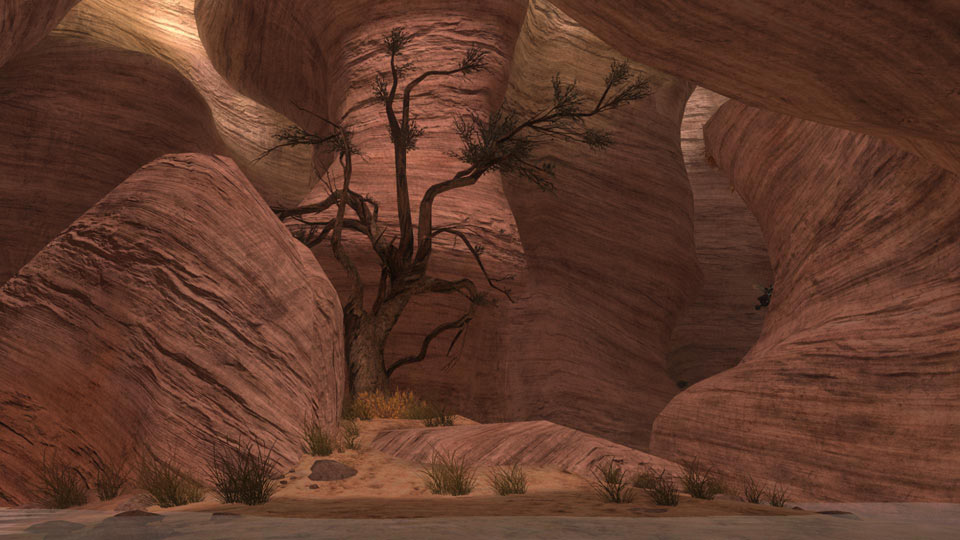 The Covenant are aggressive in trying to stop us from reaching the Autumn. Some would say that this elite was foolish, that he turned his back to me on account of a poor decision. Those people are wrong. He knew he was about to go down, so he encouraged me to expose myself to his comrades for as long as possible. His only failure was in expecting his team to notice the situation and take advantage of it...
By the time we get to the Autumn, it's raining hard. Which is nice, because it shows off Reach's neat rain system. The individual rain bits collide with both static geometry and dynamic objects.
The Autumn.
After we deliver some mail to the Autumn, the Covenant step up their game. We are forced to stay on the ground and retake a defensive platform to fight off a cruiser. As we make our moves, UNSC forces on the plains below are locked in combat with some scarabs... and judging by their curiously circular maneuvers, they seem to know what they're doing.
//============================
Well, looks like the Autumn managed to get away. But we didn't. We seem to be stranded on the barren planes stretching out beyond the previous level; what appears to be a part of the PoA's dock is faintly visible high above us.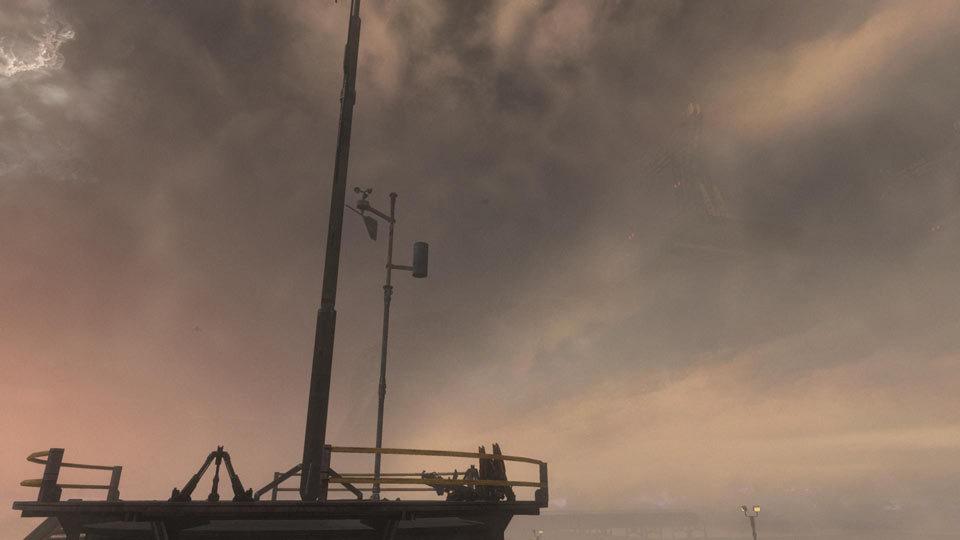 The Covenant are still pressing hard on us. Something seems to have happened here; there are dead spartans everywhere. It's all over now, but we give it our best, somehow shrugging off plasma grenades.
Plasma grenades were ultimately my downfall... but not in the way you might expect.
Reach.