So a while ago, I played some ODST on normal. I capped some stuff and
posted it
. Anyway, I decided to do the same with Reach.
Unfortunately, I took a few too many pictures, and I'm going to have to make this a two-parter. You don't like it, jump your butts back into orbit!
Images link to bigger images.
//============================
First off, is this a gush post like the ODST one? Maybe not. In fact, at this point you should suspect that it's full of rage and hatred. See? Rage and hatred:
Now that we've established that Reach is, objectively speaking, the worst game of all time, let's move on.
//============================
Winter Contingency opens up beautifully. AMD has fancy-schmancy GPU-based hair physics. Crytek has top-secret tesselated toad tech. Bungie has... some rather fine-looking trees.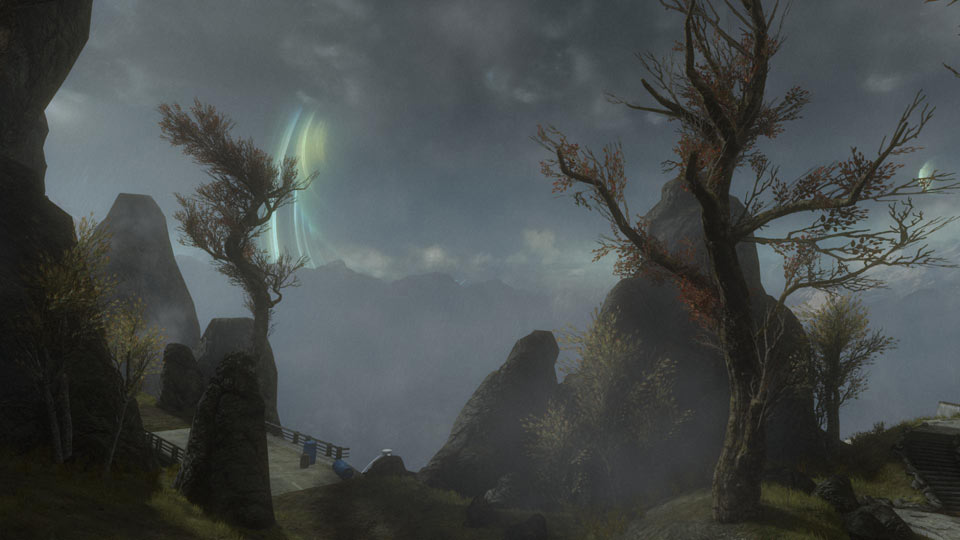 More Bungie trees. I got carried away.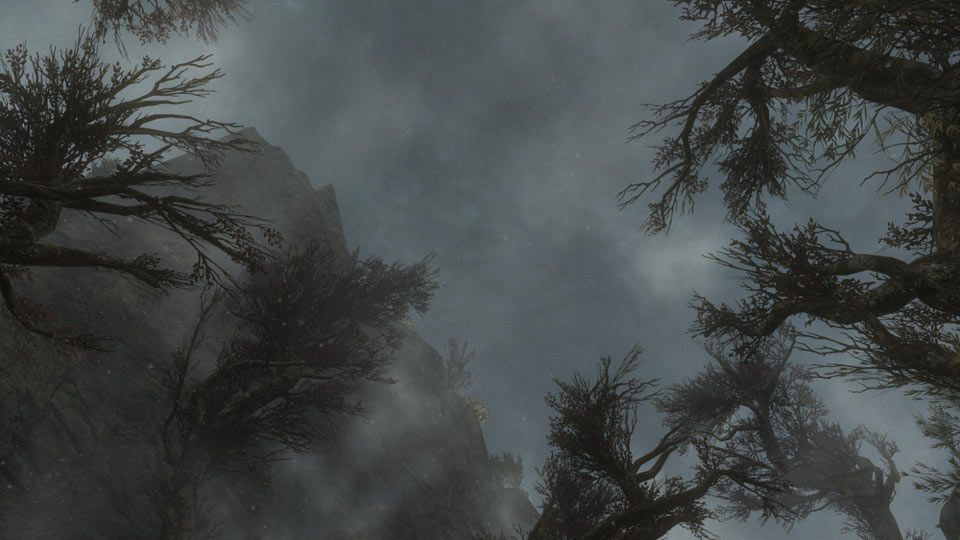 Now, something I'd like to address is the issue of Reach's water. I think it's underappreciated. Now, I'm not going to comment on whether or not Halo 3 water is "better."
Halo 3 water is better.
But Reach water uses a similar system which, although not as interactive as Halo 3's, looks very polished in some places and has it's own strong character.
So, Bungie trees. Did we already go over this? I can't remember. Here are some Bungie trees.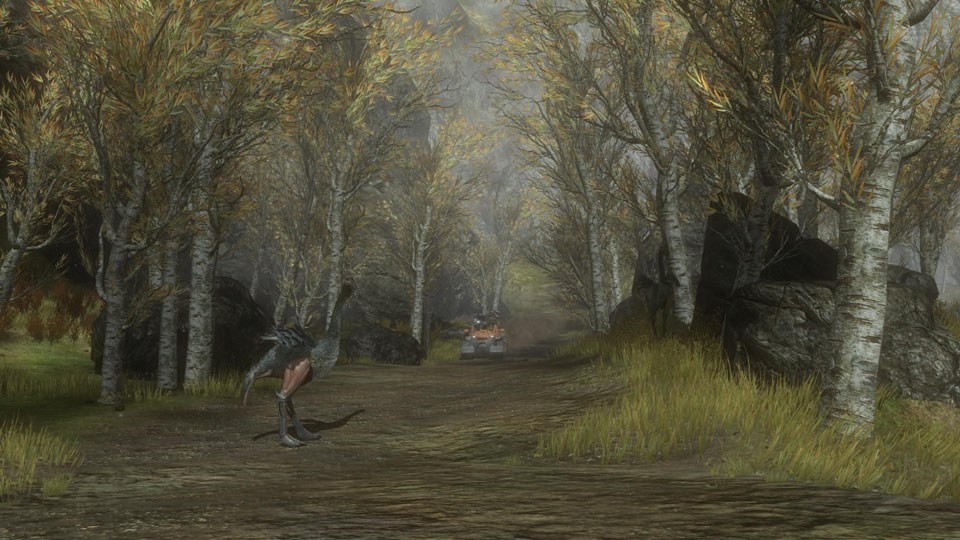 You may have noticed a certain type of bird in the picture above. As you can see in the video below, Jorge loves obliterating them. Or is he talking about the jackal? I honestly don't know.
The big branching ground section of Winter Contingency has an interesting structure when viewed from afar. Here's a big piece of it.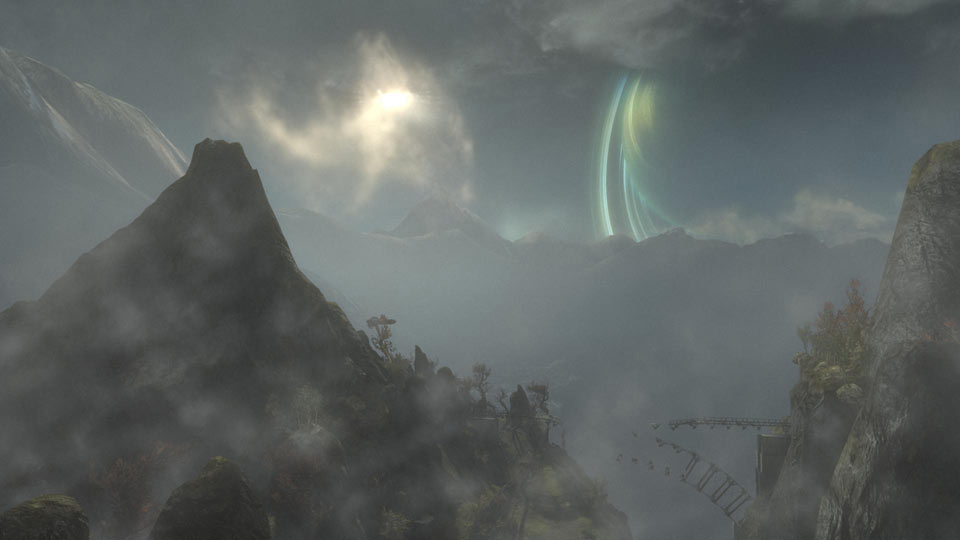 Grunts can be sort of dumb sometimes, but you can't deny that they're commited.
You know the relay building? Yeah, super creepy. But I guess it's being occupied by an elite zealot team, so that's fair.
//============================
When you activate the comms array generator on Sword Base, the electrical system actually does stuff.
//============================
Nightfall is gorgeous. This image was not from this playthrough, but it's been sitting around on my hard drive for like a year and it seems appropriate. The brightness and blueness comes from the level's lightning flashes.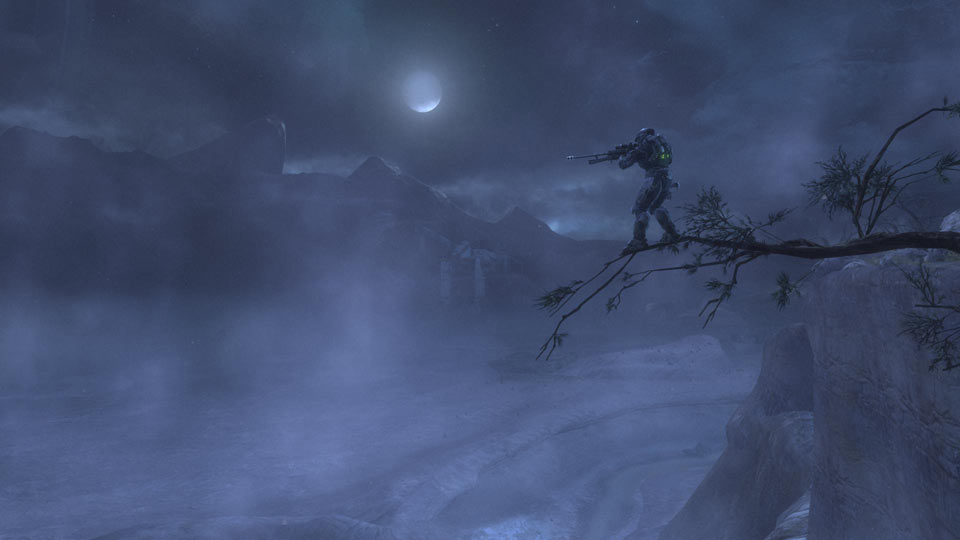 This is from the Gúta area. More Nightfall skybox appreciation.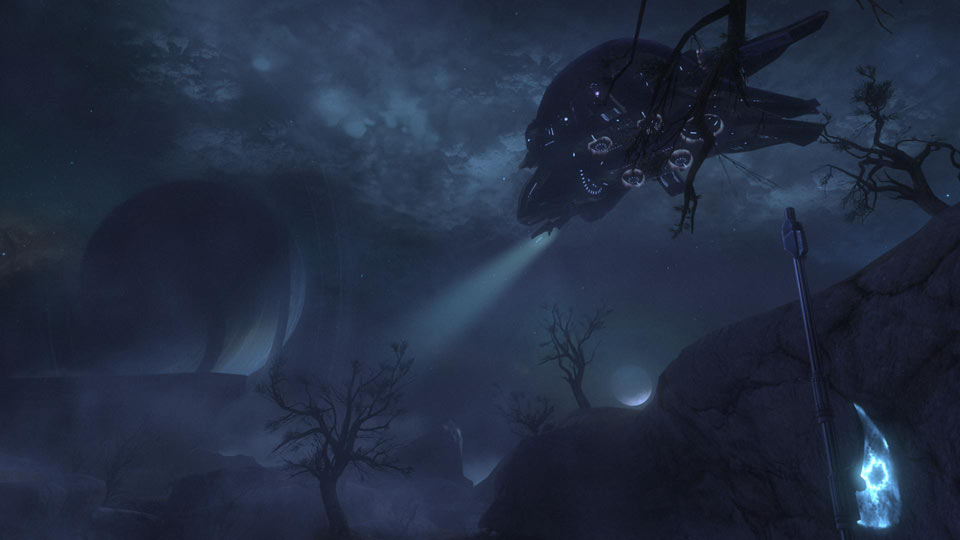 Oh hello, Mr. This Cave Is Not A Natural Formation. Yes, the Covies are, in fact, shooting at yes.
In case you haven't noticed, I think Bungie did a good job with the trees.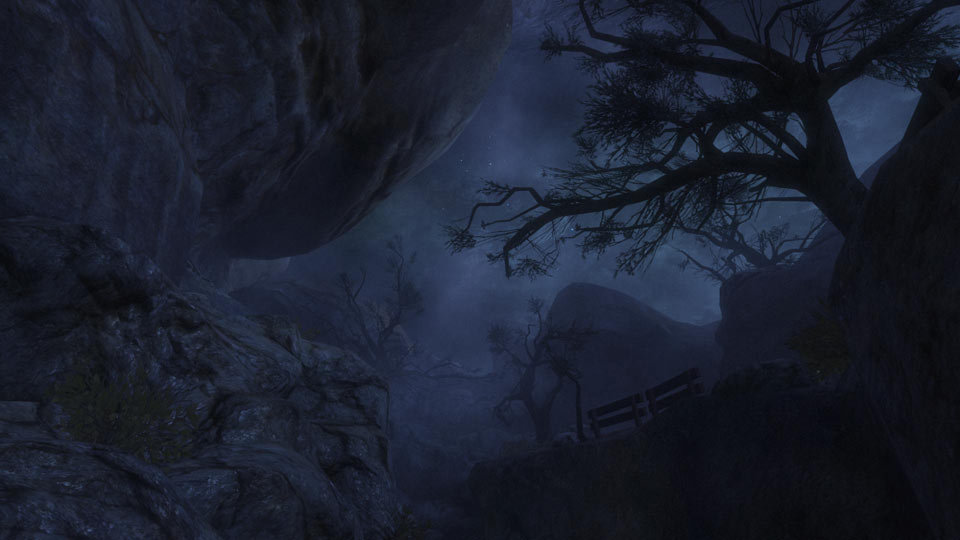 The approach to the powerhouse looks extremely cool.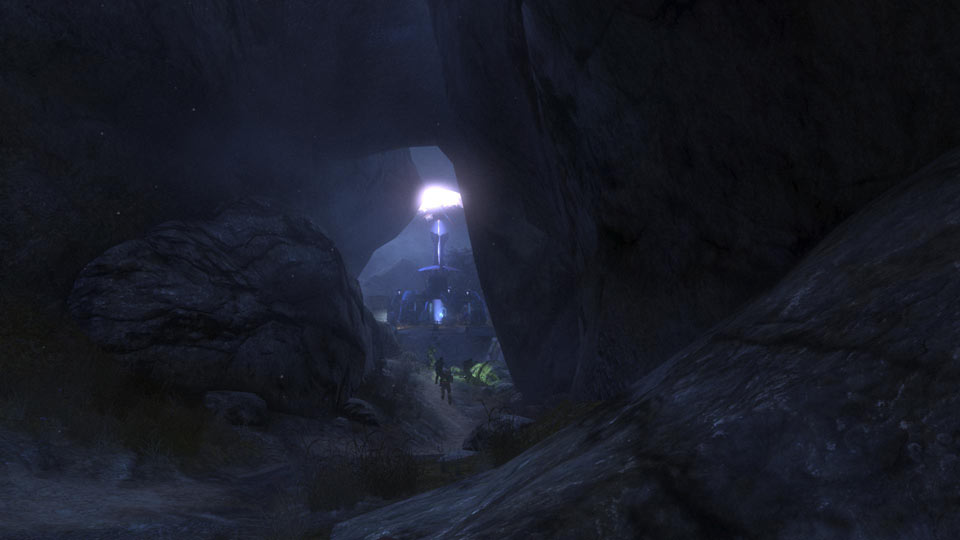 To wrap up Nightfall, can I just go ahead and point out that Jun is a complete liar? Like, all the time?
//============================
Nightfall transitions to Tip of the Spear in a rather cool way. Though something seems fishy about that concrete bridge support...
Dedicated warthog gunners live tough lives.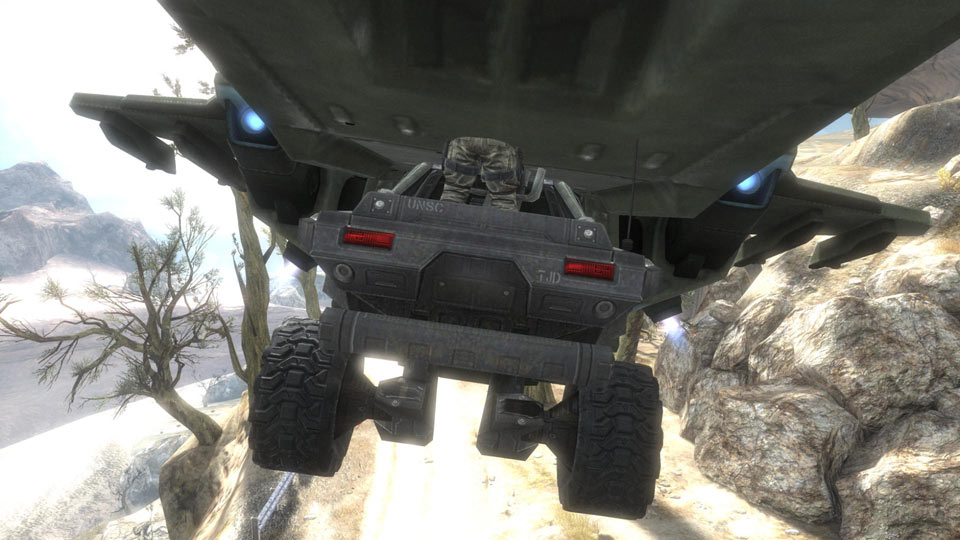 Hey, Bungie? Umm... Yeah. What's with the waterfalls in the sky?
So, I tried taking a 3d image, presented here formated for cross-eyed viewing. Seems to work, but I really have no idea what I'm doing. Whatever.

Reach has pretty good sense of scale.
If you fast-forward in theater when a cutscene starts, you can break the music. This can be pretty weird.
//============================
Long Night of Solace opens up with a ton of stuff happening in the skybox.
Did you know that a bunch of marines in the launch facility get picked up and flown away? You can get right in the Saber when you get to Countdown, but the entire map can be explored.
Alright, let's talk about the Covenant space vehicles. In addition to being IN SPACE, they're decked out with some exciting weaponry. First up, the space banshee.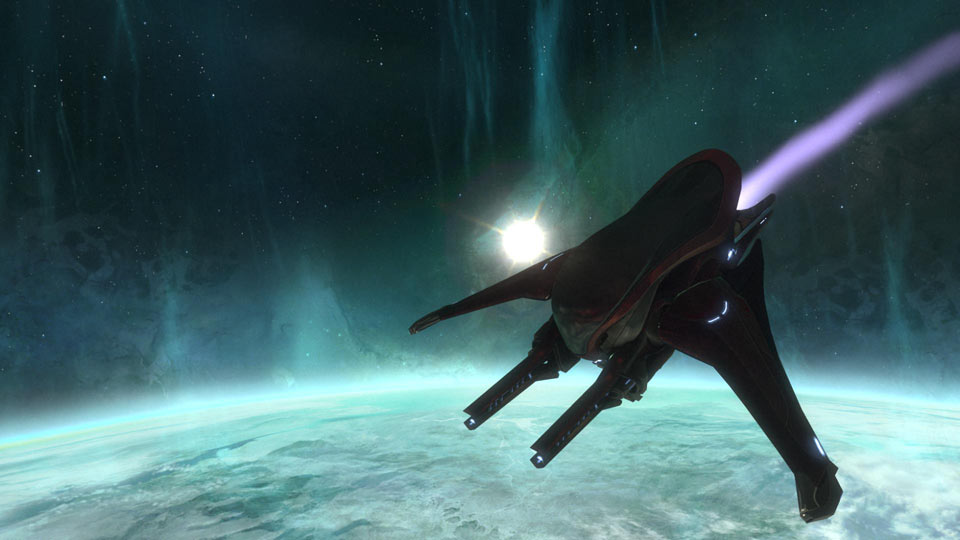 Meanwhile, the space phantom is ready to broadside anyone who feels the need to mess with it (such as you).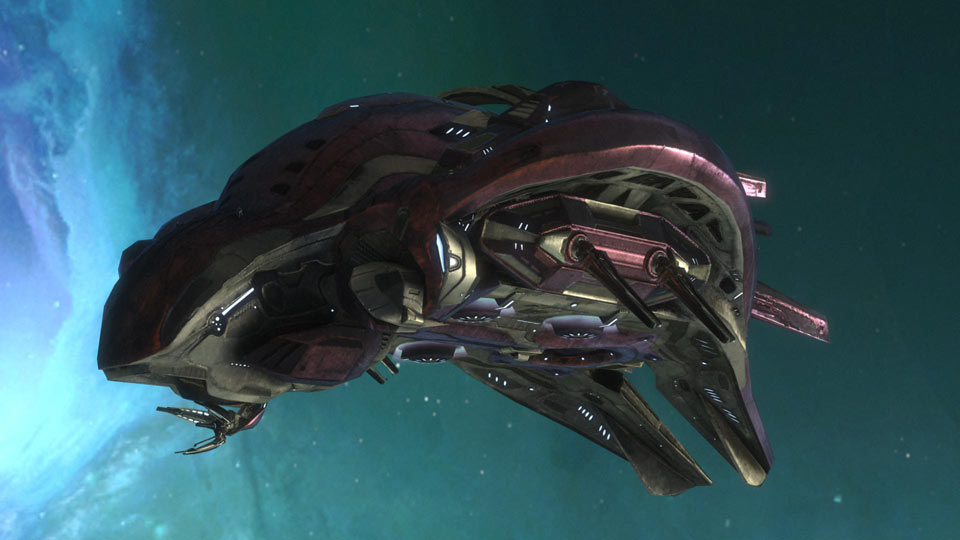 Oh, the space phantom is also sporting a spinny thing. I guess it's just cool like that?
The Corvette has a really neat system for launching banshees. Some would argue that it has some vulnerabilities, however.
Careful readers will notice that, although I discussed the space banshee and space phantom, I moved on without mentioning the space seraph. To make up for this deficiency, I snapped a picture in the Corvette's hangar.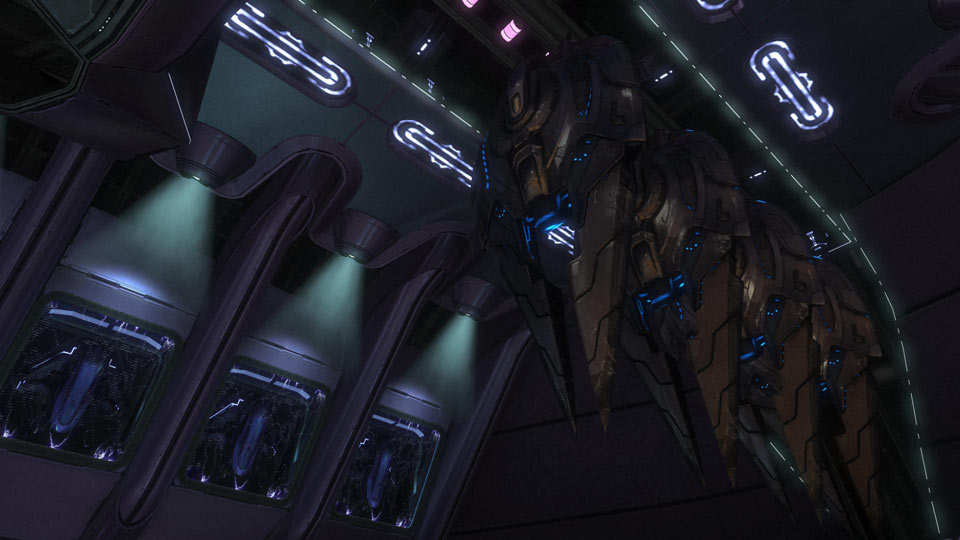 The Corvette's bridge is a cool place. Cool people hang out there. Spartans go there to frolick.
//============================
And that wraps up part 1! See you on Exodus!