TEX'S OFFICIAL HBOMB 2014 WRITE UP
This past weekend was the second annual Halo.Bungie.Org Mountain Bash, an event that Schooly hosts outside Heber City, Utah. Which is an hour or so outside Salt Lake City. An area so remote that your fancy smartphone becomes the most expensive calculator you've ever used. I've been looking forward to this event since it's birth last year and already cannot wait to go back. So sit back, relax and try not to regret [regret, regret] that you didn't go.
Day 0
This year I decided I'd fly out Thursday morning. It'd save me some money and give me an extra day to berate everyone. Really a win-win situation for me.
I landed at my layover in Denver, where everyone else was flying into for the game that Sunday. I didn't see Peyton or Brady, but I was anxious to get to SLC. Little did I know that the airport would claim one of our own just hours after my departure.
Touchdown in Utah. I met up with Bryan Newman and Deafhawk (who will from here on out be called BryanHawk). We began our trek over to the hotel for the night, because if Bryan stayed in that airport any longer, he would have had to start paying rent (his flight got in at 10am—it was 4pm now).
Crazy Taxi Line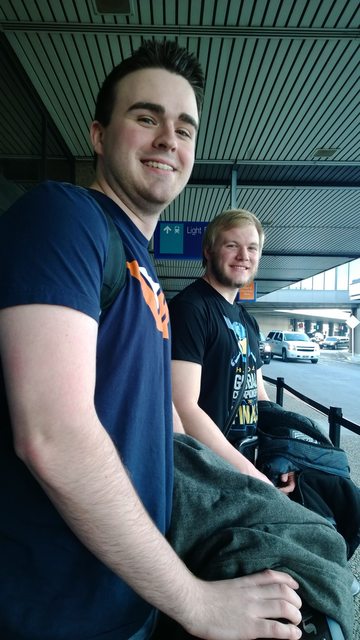 The majority of our party wouldn't be arriving till later that evening. So we killed time decimating the free wifi. Schooly, kanbo and TDSpiral finally showed up, having carpooled from Washington. They were sick of driving (and maybe each other) so we took a nice stroll down the street to grab some burgers for dinner. Around this time we learned that both Nart and Bonekin missed their connecting flights. Nart was fortunate enough to get on the next flight out, but Bonekin was less lucky. He would be stuck in Denver till tomorrow morning. On the plus side, our chances of finding out if Peyton Manning yells "OMAHA!" in his sleep were dramatically higher. After dinner, and our return to the hotel, Nart and Paddy arrived, thus The Happenings began.
Look, Blue! A clue!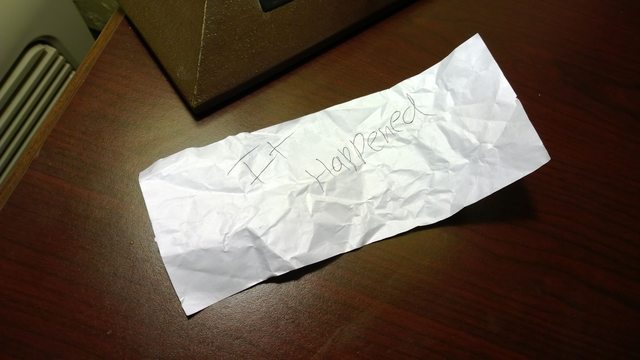 That evening we watched tolerated a copy of Trolls 2 Rifftracks. A live-action, clearly based off fan-fiction film about Nilbog spelled backwards and pissing on hospitality. Maybe. I dozed off intermittently.
Day 1
There were no eggs at breakfast. We managed. Barely.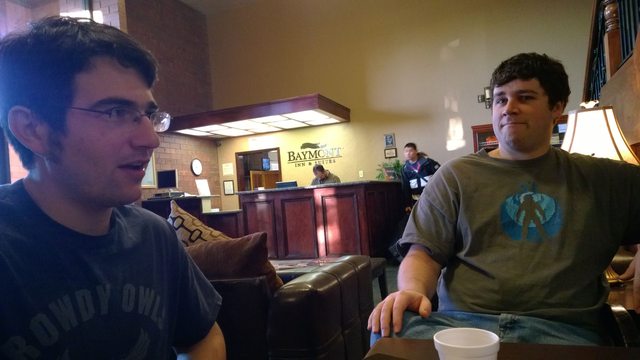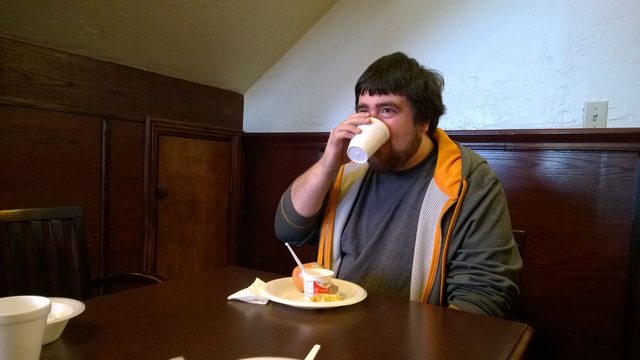 After checking out, we migrated over to the airport in groups, needing to get the rental cars and the last of The Krew. Elessar, i7 and finally Bonk[in] joined the party. Xenos would be meeting us at the cabin. Apparently Rob Reiner and Bob Odenkirk were also at the airport. #NotImpressed.
Once everyone arrived we caravanned our way to…effing California Pizza Kitchen. It was lunch time and I guess someone thought this was a great idea/wanted me to feel at home. I ordered a salad. Some people ordered a salad on their pizza. None of the pizzas were actually from California.
By this time Xenos was well on his way to the cabin, so we made the final push to Heber City. It was a three-car caravan with 11 people, plus luggage. We made it work, though.
My POV (this is what happens when you're the smallest person in the car, you sit with the luggage)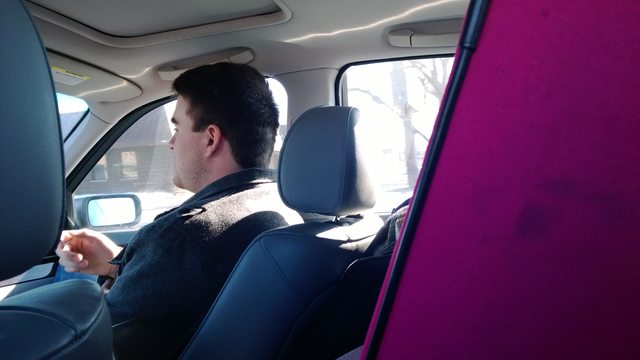 Check out the scenery. Mountains for days.
We arrived at Swagga Genesis: A cabin complete with tons of beds, game room, two dining rooms, a movie room/The Comfytorium, a hot tub and a non-functioning jacuzzi. It also had DSL. We hit the jackpot. I take no responsibility for not taking that many pictures of the layout of the cabin.
There was really only one rule for the cabin.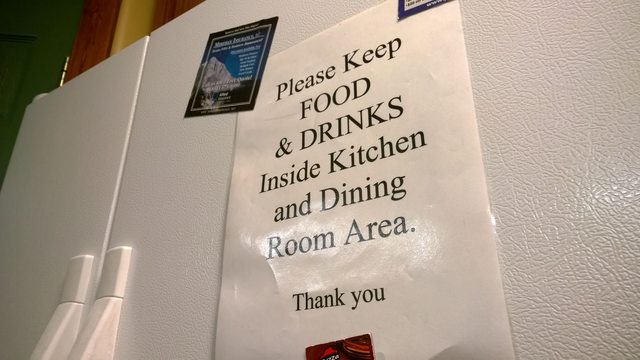 #nope
A handful of us went into town to get groceries. I got distracted.
Kaawaaaaaiiiiiiiiiiii~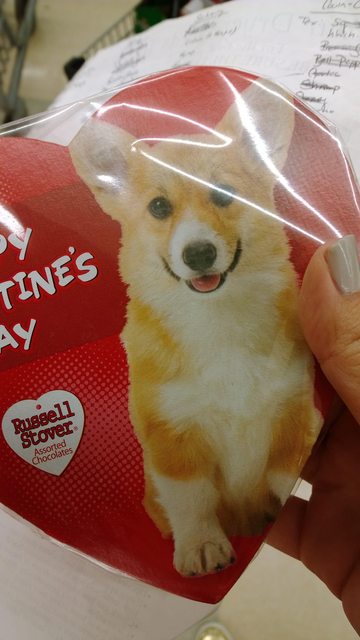 Once we got back, the boys had already set up their workstations.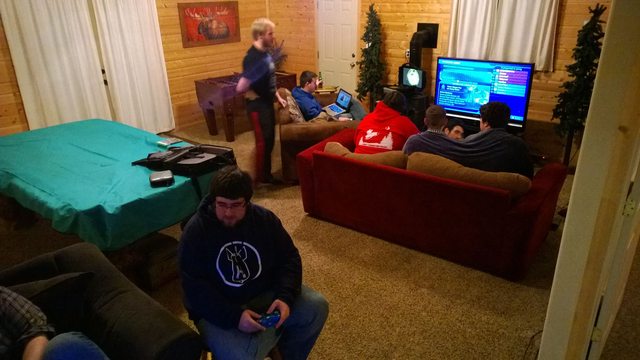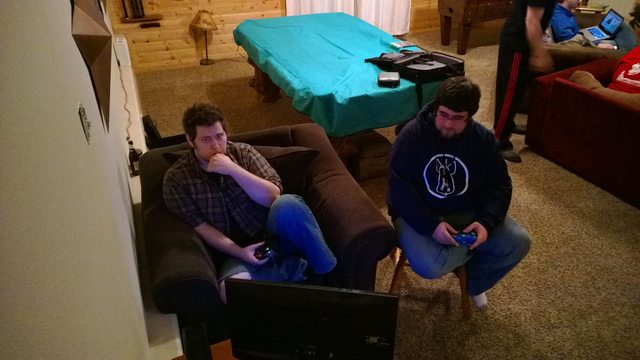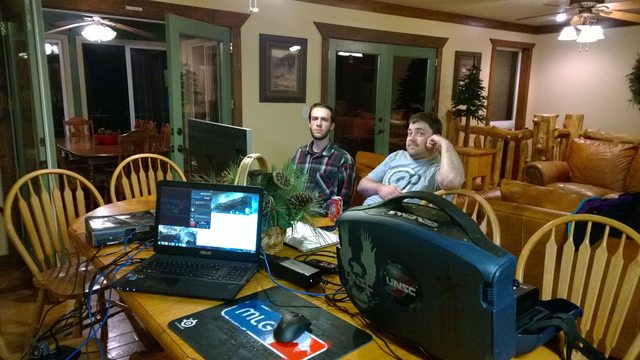 So I set up mine.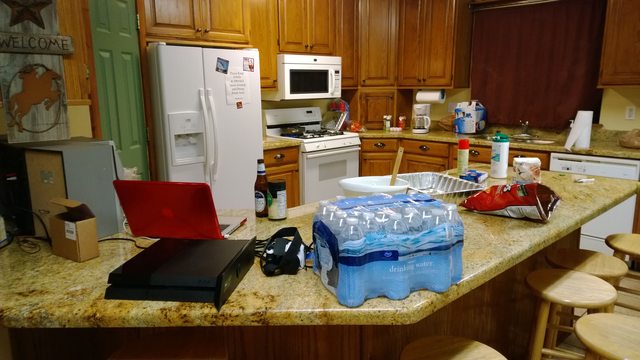 Schooly kicked off the opening ceremonies at dinner, where I made lasagna with no side dishes (remember, I got distracted?). Besides, beer and Doritos are totally a food group. Elessar conducted the award for the TSD Final Fantasy Football League, which many of you may have already heard about.
The Belt of The Champion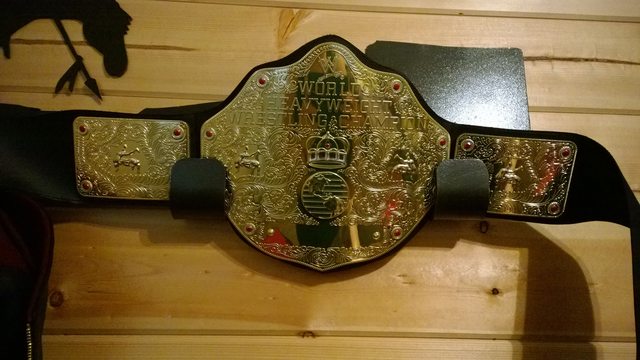 suck it
After the feast, some members decided to take to the mean streets of Halo. But for those of us with real hand-eye coordination skills, we turned the table into the main stage for the Laredo Rules Beer Pong Tournament. Where teams would learn what the Laredo Rules were, the hard way.
The O.G. Red vs. Blue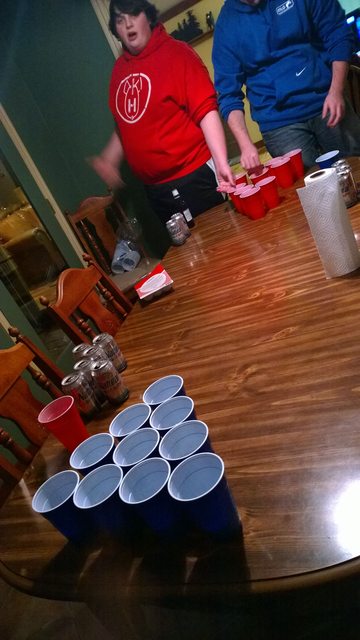 Preface: The only real 'Laredo Rule' that was enforced was that if the ping-pong ball spirals/spins in the cup, a girl can blow it out. Finally, my natural talents would have their place to shine.
The biggest upset in sports history:
To clarify, Laredo Rules weren't completely enforced since Team NewPaddy didn't have an anatomically-correct girl. However there is no way that shot wasn't going to count because I am fucking talented. We remained undefeated that whole weekend. I go pro next month. My mother is so proud.
Day 2
The designated snow day. We were not going to be hitting the slopes till later in the afternoon, having voted on trying out Brighton's night skiing trails. Halos were played, and the TSD v. BryanHawk matches began. People got real mad.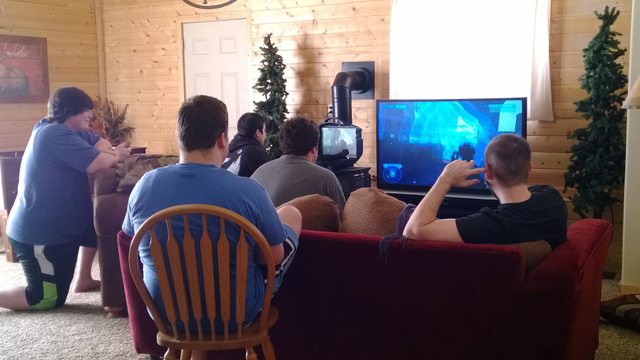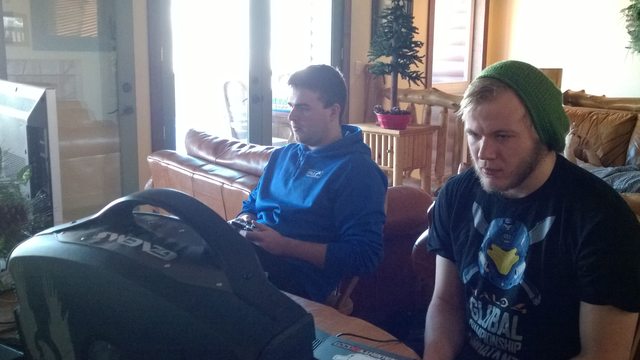 From what I heard, TSD won. I was busy playing Tetris.
Team Sanic, aka the ones who flew out here to actually go play in the snow, aka Myself, Schooly, BryanHawk, Paddy, Elessar and i7, piled into two cars and began the journey to the slopes, ready to go fast. Little did I know that the mountain had other plans for me.
I consider myself an ok-boarder. Meaning I'm competent enough, in my opinion, on most green and blue trails. I'm able to pick myself up and get down the mountain, give or take a few spills. My only real issue is maneuvering myself off the ski lift (moreso since that is how I injured myself last year). The first run was fine, save the ski lift, what a blunder. The second run, Schooly, Hawk and I (the boarders) went back up and I managed well on the lift. We went down a trail called Thunder Road, which I will forever call Blunder Road. It had a flat strip where I intentionally fell, not wanting to go tumbling over the edge of the route and down the side of the mountain. Unfortunately it took me about 15 minutes to get up and across the flat path. Schooly and Hawk were kind enough to wait for me, but having been embarrassed and aggravated I insisted they continue without me. They went reluctantly, but I was able to get back on my feet again and finally get down the first hill. Unfortunately I ended up right back at square one and it was getting worse. I spent about another 15 minutes getting up, getting mad and falling over in the same span of 30 feet. It started to get worse, as I couldn't even keep calm enough to get off my ass and out of the way. I was getting upset at mother nature, my board, the entire population of the park and myself. Finally after my last fall, I unclipped my feet from the board and walked the rest of the way down. It gave me some time to reflect and really enjoy the scenery, as well as come to the conclusion that I was too old for this shit and should try skiing like the rest of the white folk.
The sun set by the time I had gotten to the bottom of the mountain. I was walking past the cafeteria, hoping no one I knew had seen me in my weakened state. Sure enough I heard someone calling my name: Sigh. Schools and Hawk were finishing their late lunch. I put up my board and bought the biggest can of beer I could and a grilled cheese sandwich. I was done.
Are you still with me? I know, reading all this is hard without many pictures. I'm sure I'd have taken more pictures of my walk down had I not been sore and humiliated. That's why I've included this image. It has nothing at all to do with HBOMB, but I thought we could all use a little breather before you continue to wish you had gone.
This Red Panda has nothing to do with HBOMB.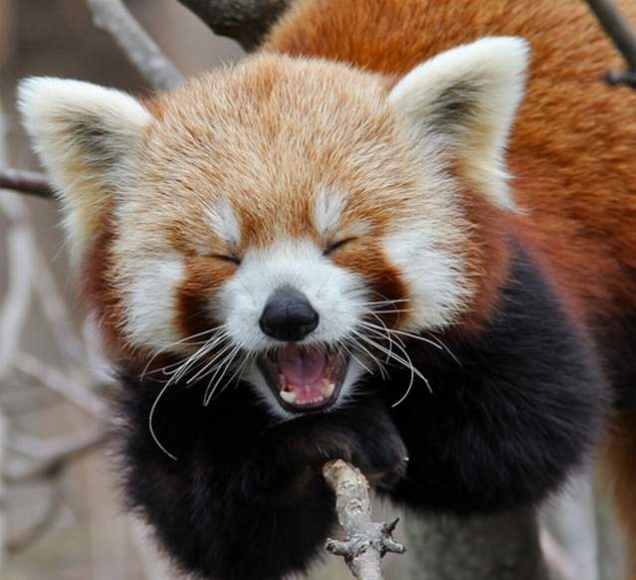 A few more of us trickled into Camp Cafeteria as the night got on. Injury prevention was key.
This Hello Schooly wandered in.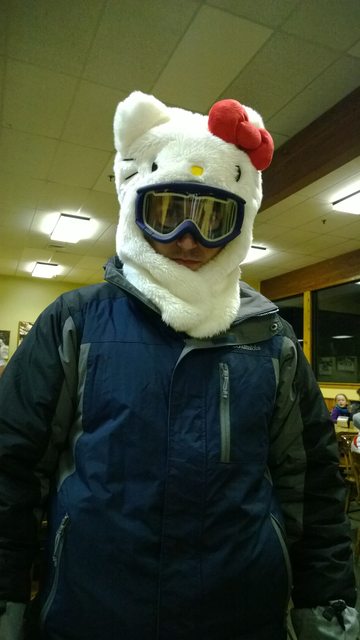 Once everyone got their last runs in, we packed it up and began the drive back to the cabin. I was nearly 10 pm when we finally arrived and even later after we hot tub'd ourselves to prunes. For the record, all the dudes were playing footsie with one another. It was really, really………weird.
I made my signature beef-n-cheese for dinner (mac and cheese with ground beef and tomato sauce) and we all stayed up late watching TSD productions and youtube videos because we're adults.
Day 3
The final day of The Bomb. Even though we went to bed late, the majority of us still woke up 2-4 hours later. Sunday was designated Football Day, were we would watch the AFC and NFC Champion matches after attempting to play football out in the snow. I unfortunately don't have any images of us playing, because I was so good I had to play QB on both teams. I wore my Brady jersey and my sister's uggs to get into character. Kanbo and I made the game winning touchdown.
Inside looking out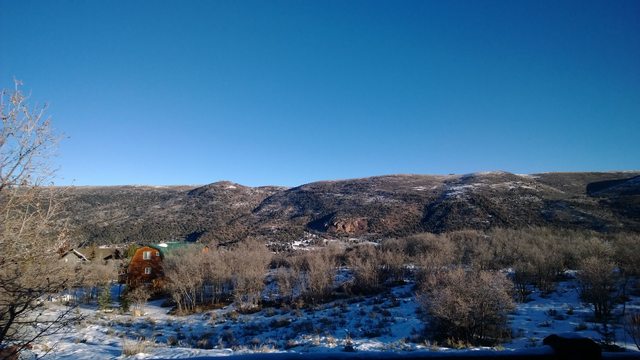 Did not taste as good as I remembered as a kid.

Only a few of us were moderately invested in the games that afternoon. After weeks of Final Fantasy Football, it was a real treat to watch with everyone I had been playing against and to see Brady get mad (hawt)/and Peyton win.
Papa pls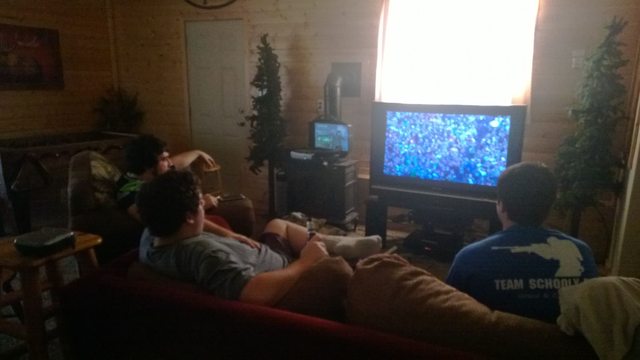 That evening we had reservations at the Foundry Grill at the Sundance Resort where all the famous people and film hipsters were showing up to show off their latest youtube hits. So since we were a large party with 11 dudes, a girl and Tom Cruise, we got some weird looks and were interrogated by the wait staff. You're going to get a butt ton of pictures to look at now, except none are of me. Someone had to take photos of these nerds all cleaned up for a night out. Rest assured though, I looked damn good.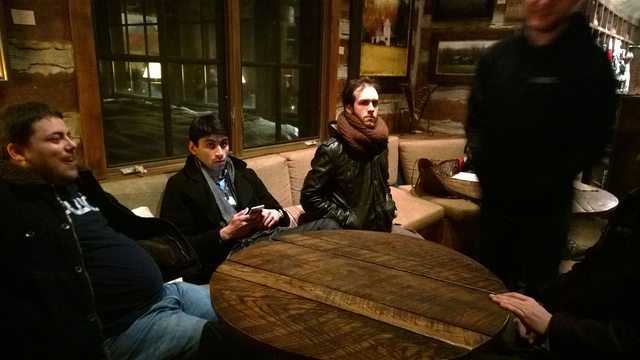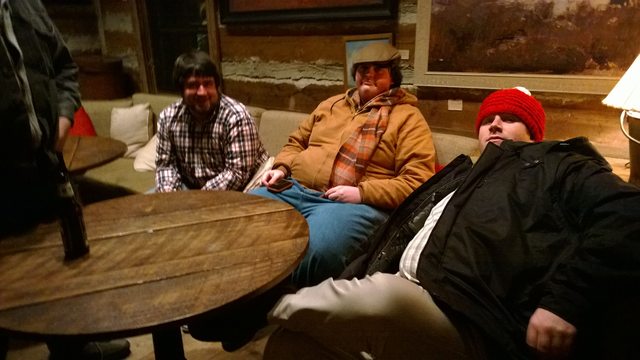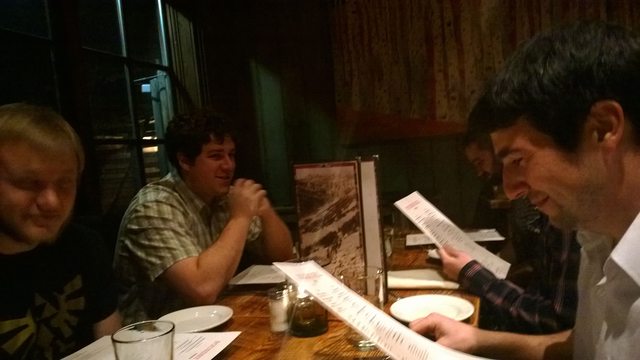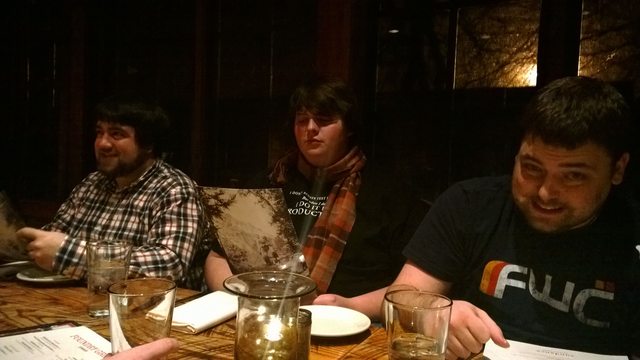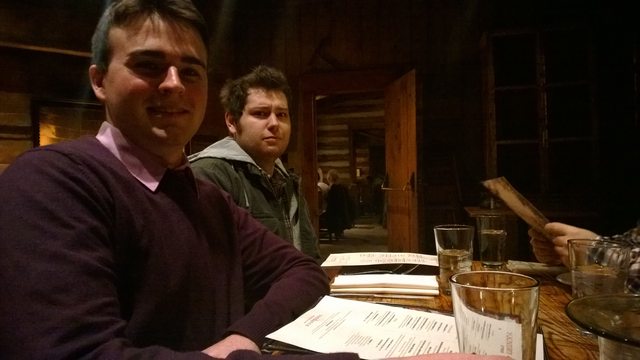 I drank this many!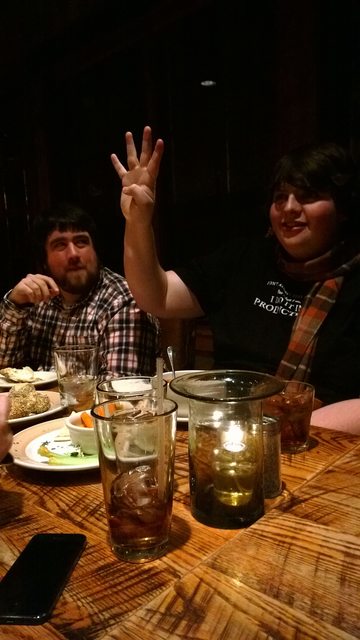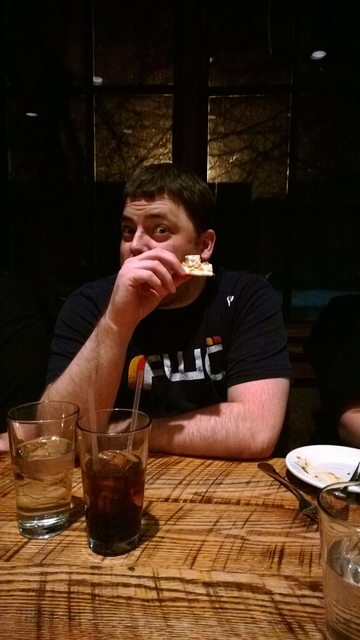 He was going fast even when we were sitting down.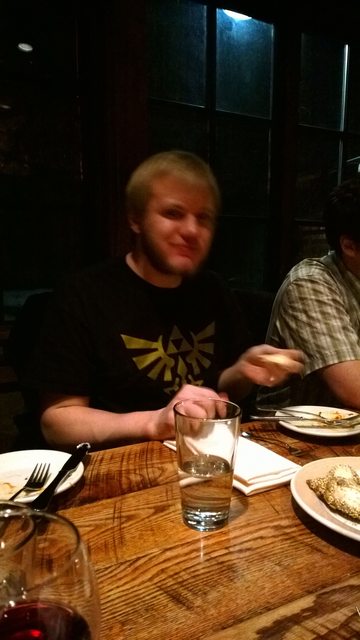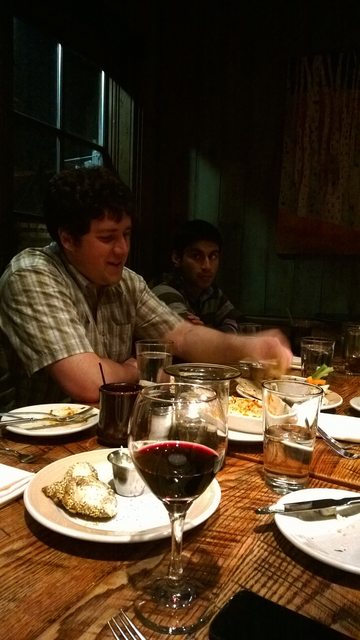 *tips*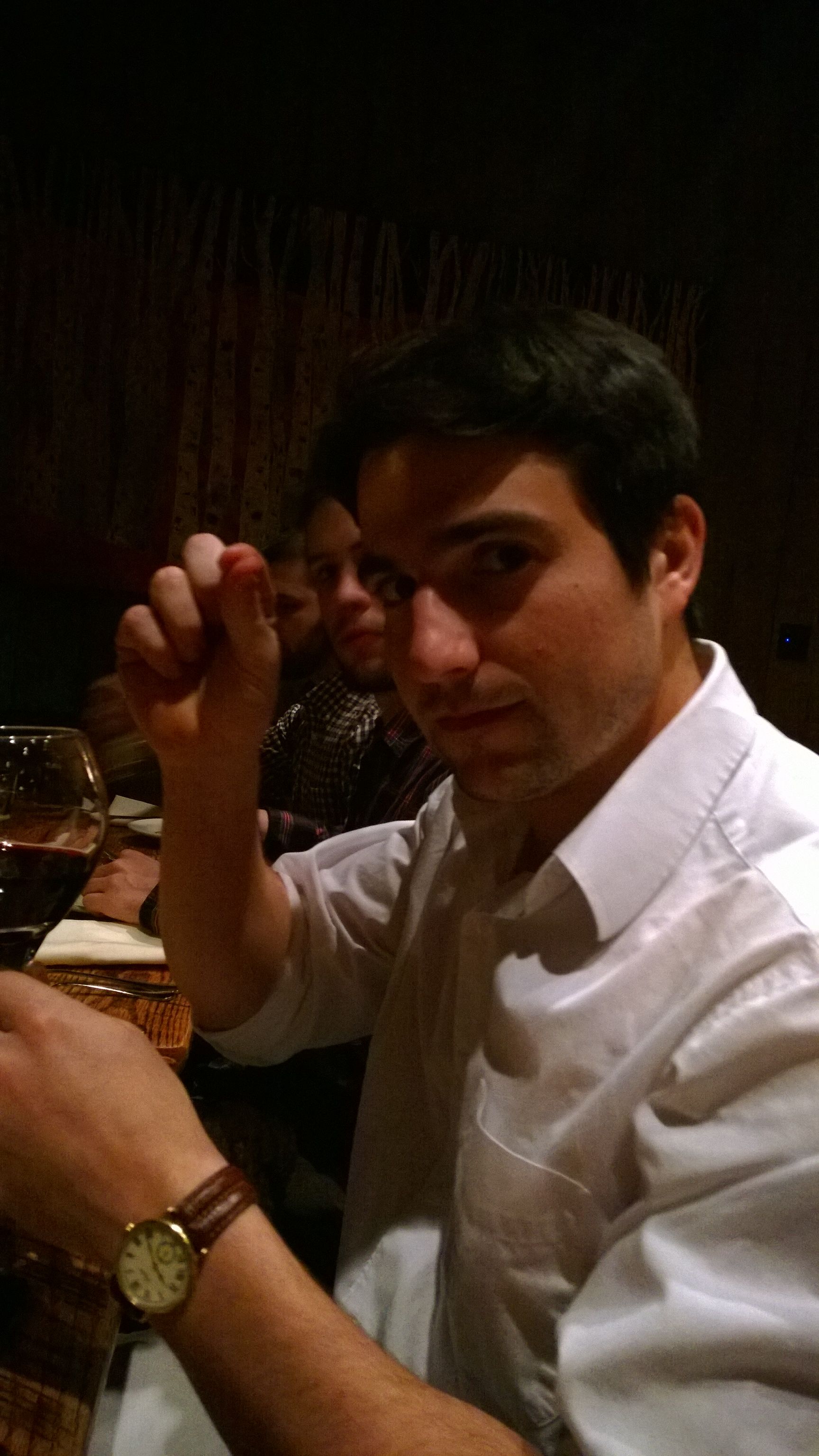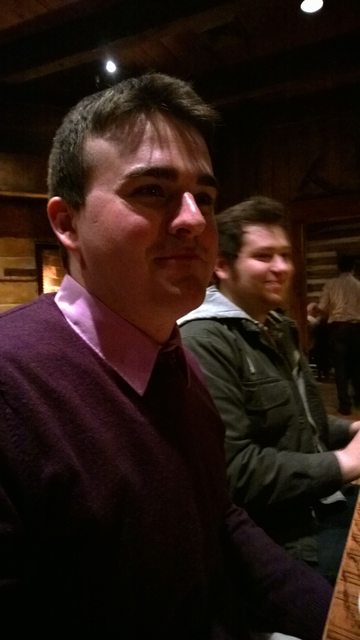 #yumm #shrimp #nofilter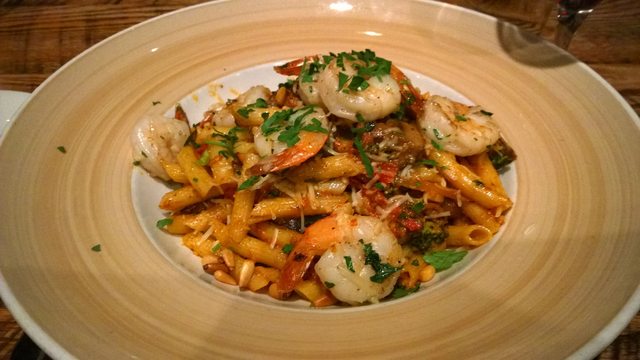 After Tom Cruise was escorted out of the restaurant with a jacket over his head by his harem of Halo husbands, us three adults who stayed behind finally left the restaurant as well. I'm telling all your moms.
The Secret Santa exchange occurred once we got back to the cabin. I drew Paddy's name and snagged him a sweet, active camo Halo Bloks/Blocks/Bonk figurine and made him some Batman pillow cases…none of which I photographed. Elessar had drawn my name and unbeknownst to him had gotten me a necklace that literally matched everything I had worn that weekend. Good call, man. Hopefully Paddy will be able to post up the gift he made Schooly. Cuz Dam. You had us in stitches, mig.
Oh look, there is a pic! But what's going on behind me? Who cares. #selfiesunday #blingfromlsr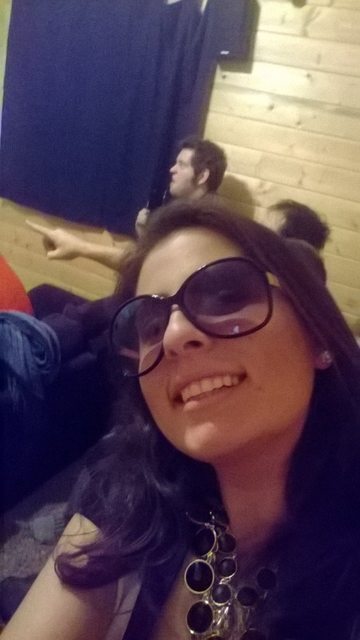 We closed out the evening proper: playing drinking games till I had the brilliant idea to go play more snow football at 3am. After that more straight up drinking. I apologize for nothing. We were not going to repeat last year's mistake of needing to throw out booze.
The last pictures I remember taking that evening.

#meow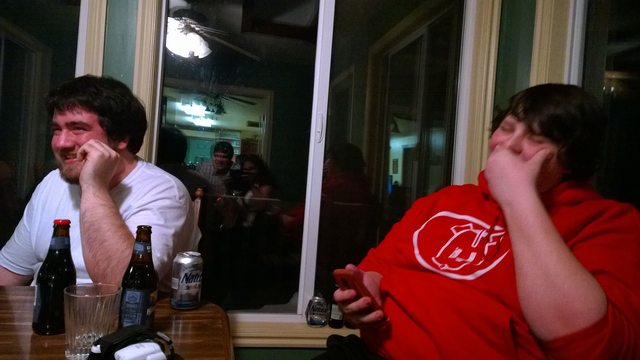 #psyiyiy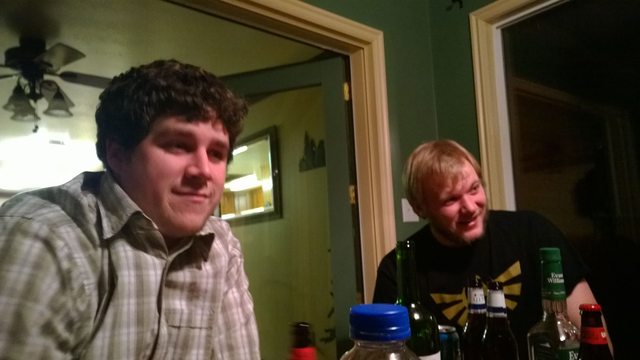 Departure Day
The morning after was somber and full of regret, regret, regret for some of us. We started cleaning and laughed amongst one another, recalling our antics the night before.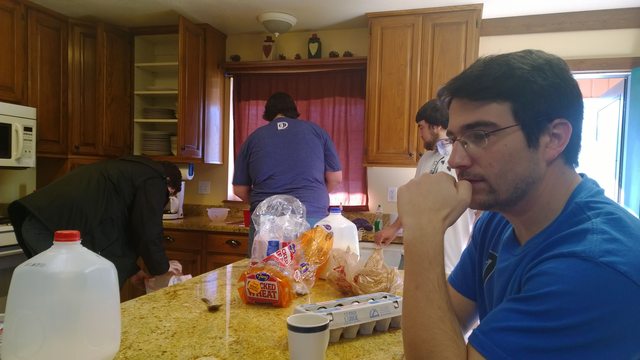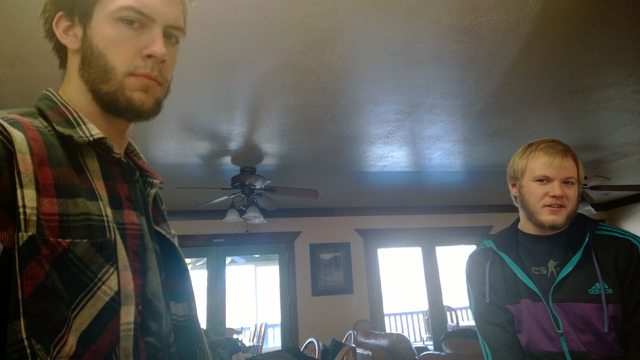 We cleared out of the cabin by 11am. Just when we finally learned what roads got us where we had to take the long one home.
rip hbomb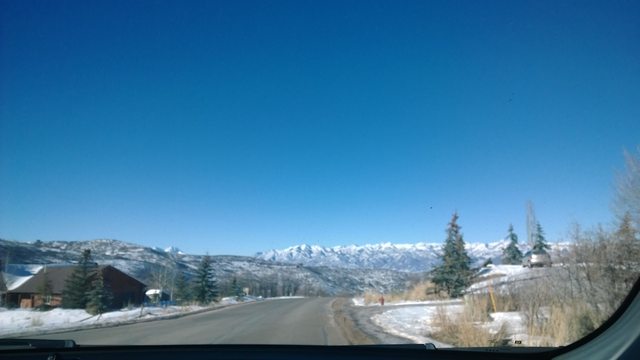 Objects in mirror are taller than they appear.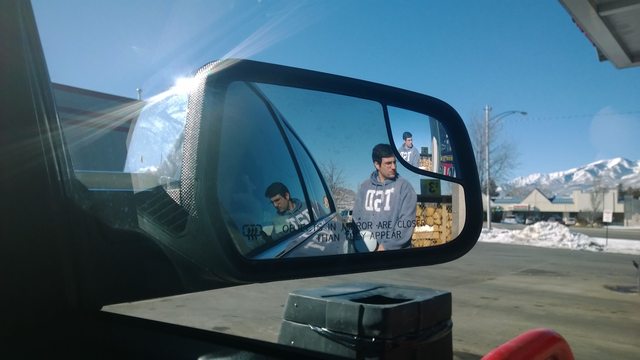 Shotgun Selfies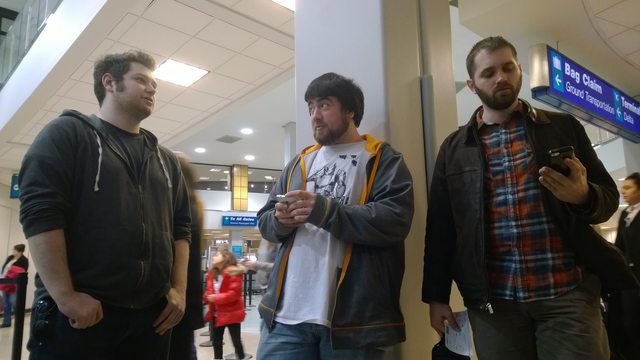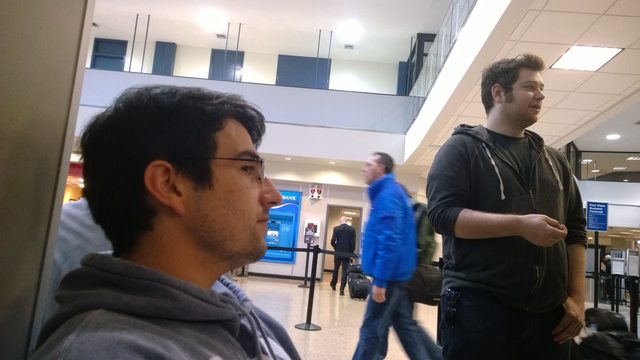 Just the *tips*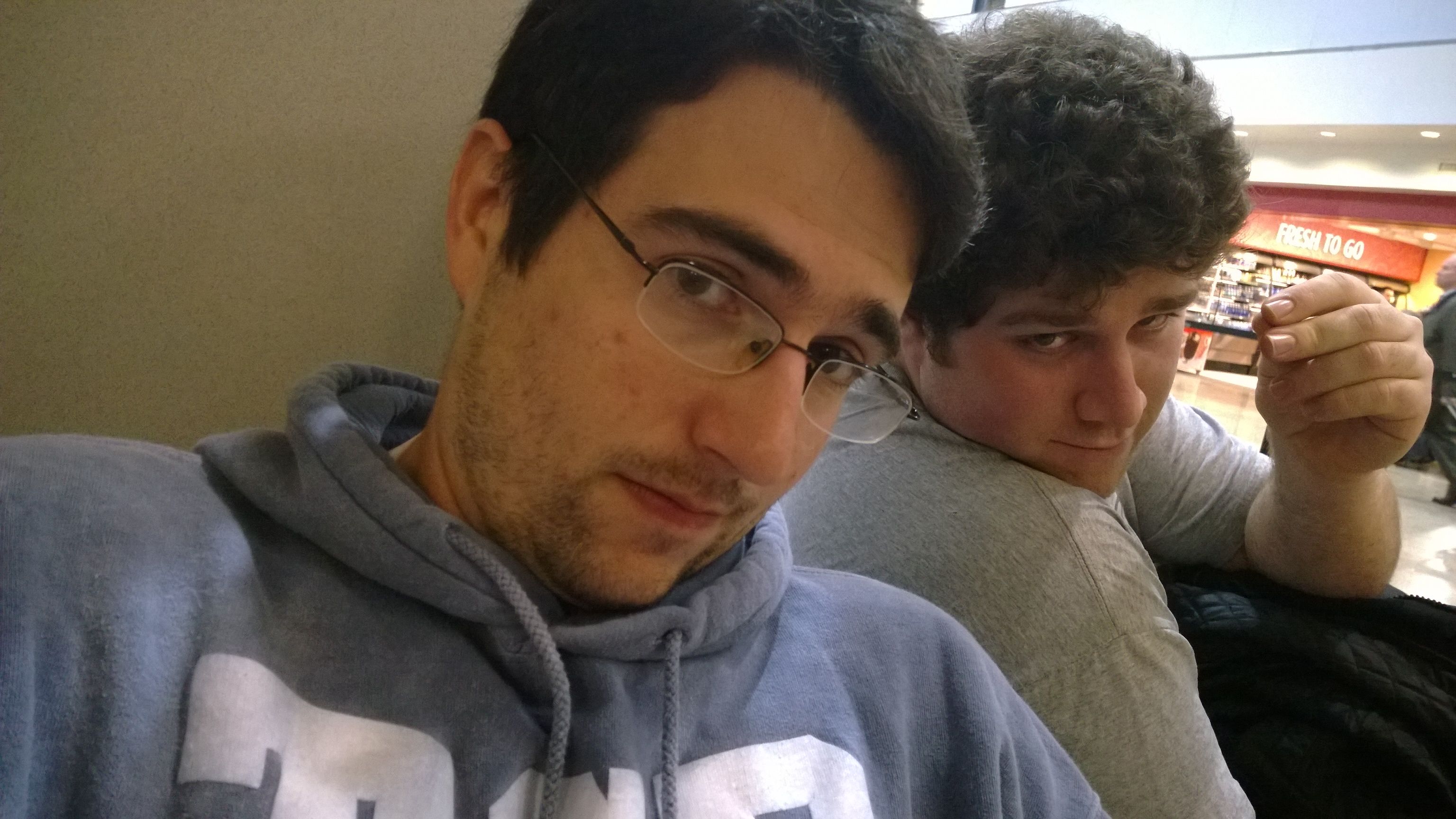 We all began checking bags and took time saying our good byes. Luckily for some of us the HBOMB continued mid-air (i7 & Paddy had the same flight as did Bonk and I).
Bonus: We got elessar back in Denver.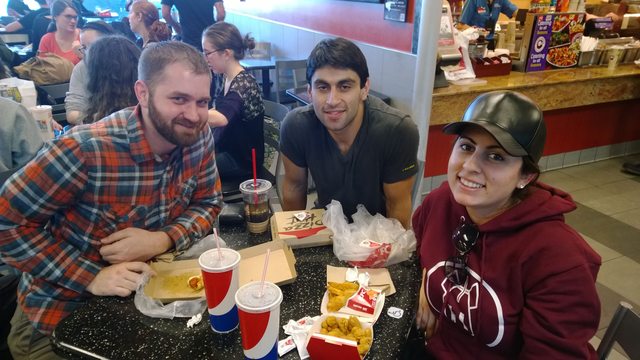 I heard Bonekin was still there as of this morning. Jk.
The flight home felt longer than it actually was. But I had a lot to think fondly about. I was anxious to get home (I did miss my dog) but was still a bit melancholy about having to wait another year to see most of my friends again, maybe I'd get lucky and get my fix during PAX Prime.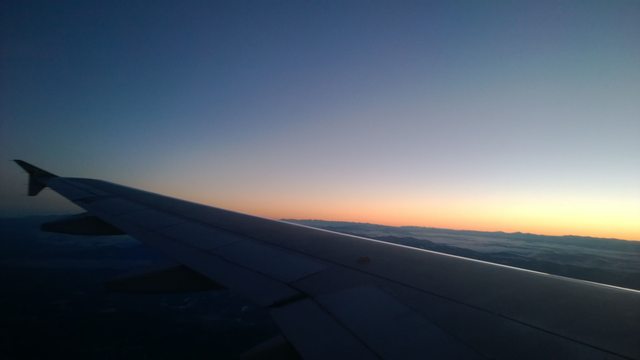 The people who actually read the HBOMB mailing list will have heard this already, but I look forward to this ski trip every year now. More than the conventions we all also see one another at. I love being able to just hang out with all of you in the snowy wilderness, knowing that any one of you could wander off and freeze to death. I know that this is definitely one of the more costly events, but I never regret [regret regret] it. Y'all are worth it, maybe more.
Thank you, Schooly, for once again hosting the bash and being (generally) on top of it. Thanks to everyone who helped keep the place clean and thus my manicure intact. Thanks for making this trip so blunderful, in a good way. I eagerly look forward to your write-ups and of course the chance to do it all again next year.
[hbombs internally]
Love, Tex
ps: These were only a few of the pictures I took this weekend. The entire album can be found here: http://imgur.com/a/4Y9xT
pps: It took me all day to write this. I lost everything about halfway in and had to go at it again. So if it seems rushed, yolo.