: chain-gun.
No.
This is a chain gun (specifically an M242 Bushmaster):
Chain guns have one barrel and operate by a very specific type of mechanism, summed up by Wikipedia as follows: "Instead of depending upon the sometimes unreliable firing of a cartridge to power the cycle of action, a chain gun uses an electric motor to drive the chain that moves in a rectangular circuit via four sprockets that apply tension to it. One link of the chain is connected to the bolt assembly, moving it back and forth to load, fire, extract, and eject cartridges." The only true chain gun in Halo would be the Falcon's machine gun in Reach.
This is not a chain gun: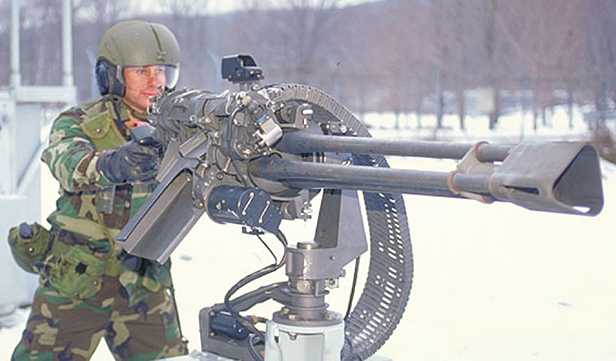 It's a Gatling-type gun (this specific model is the GAU-19, a .50-caliber version and the weapon the Warthog's machine gun is modeled after). It has multiple barrels and operates by a completely different mechanism than a chain gun does.
As a gun geek, I will never forgive Id Software from ingraining the term "chain gun" as a descriptor for Gatling guns into the minds of gamers.
Anyways, to get back on topic good vid as always. Good to see that even 12 years after its launch, people are still finding new things to do in Halo.