Previous posts in this series:
ODST
Reach
Part 1
Part 2
Halo 3
Part 1
Part 2
Part 3
Part 4
This is the end of the Halo 3 series.
Images link to larger images.
//============================
At the opening of Cortana, I am joined by shift51 and ThrustMicrobe4.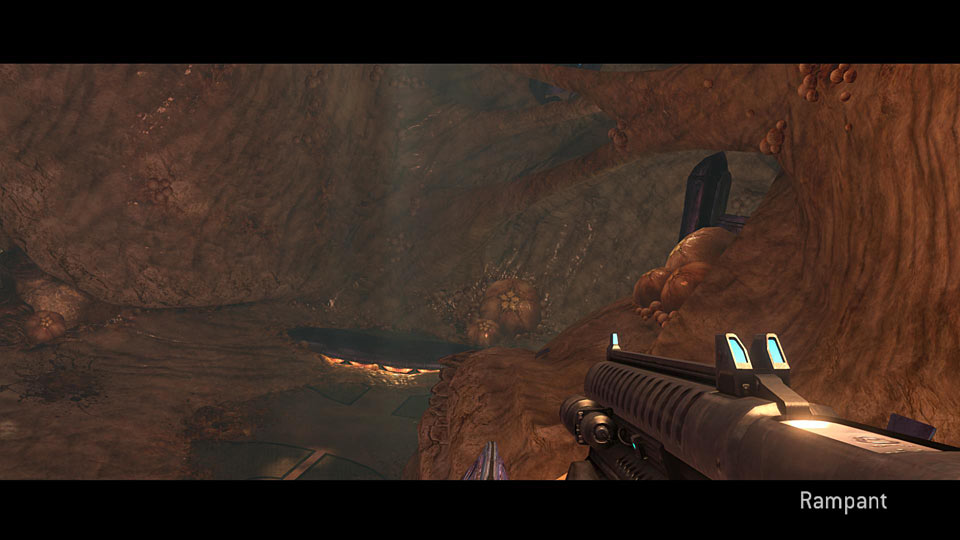 "Rampant." Rampancy is a big subject in Marathon and Halo, and "rampant" also happens to be a word in English. A word which, in a first-person shooter, calls for excitement. "Rampant" seems to be heralding intrigue and awesomeness. And it even has its own double IPA!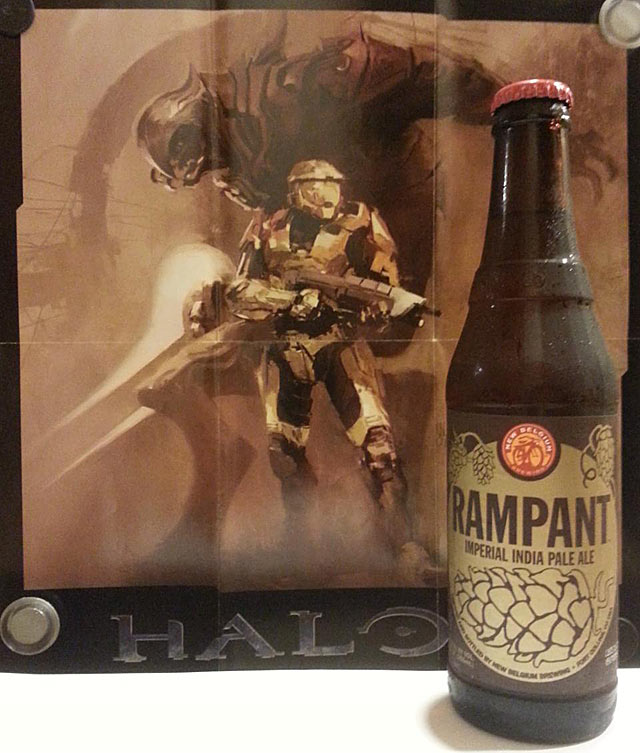 I remember that when I first played this level, the chapter title grabbed my interest. Especially as it was a flood level. I was expecting to be quickly thrown into some intense maneuvering combat, like what we see on The Library, or from one of its major inspirations: If I Had a Rocket Launcher I'd Make Somebody Pay. Things didn't quite turn out that way; ranged pure forms and whatnot.
Sorry, had to let out some of that six-year-old disappointment. Anyway...
Cortana has weird geometry. It is not a printed circuit board, with straight lines and 45-degree angles. Walls are smoothly-flowing curves, and areas are usually more complex than they first appear. This is the first hall you go through after the opening room: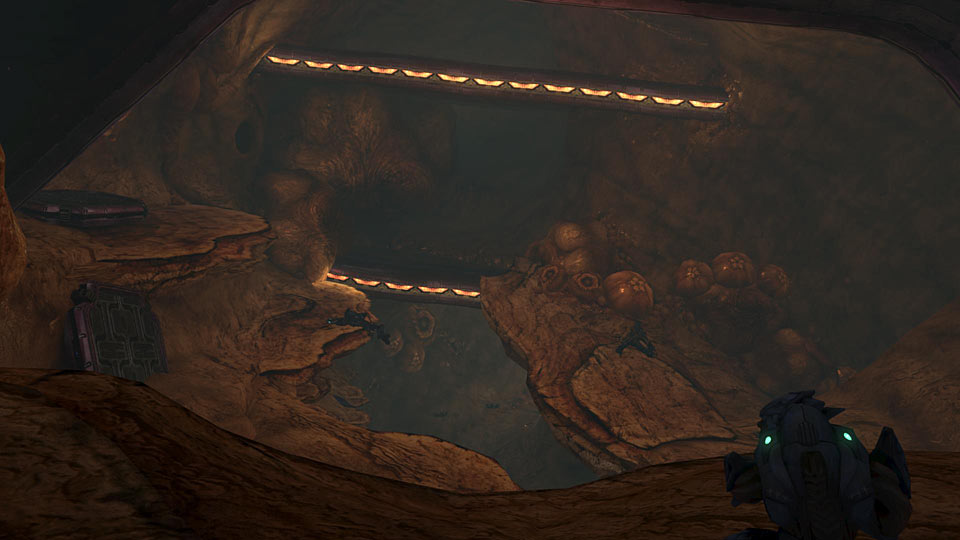 Many of us probably thought this was just a corridor on our first playthrough, as nothing calls attention to the upper levels. But we immediately run across an old nemesis...
ThrustMicrobe4: Orville Redenbacher.

Little Covenant material shows through the Flood growth. I think the level could benefit from more resemblance to Halo 2's environments; familiarity helps emphasize contrast. But even if the Flood hide those visual opportunities, they left some neat Covenant tubes laying around.
It doesn't feel very dark in Cortana's living halls, but the light streaming into High Charity from outside is very strong. Have our eyes adjusted?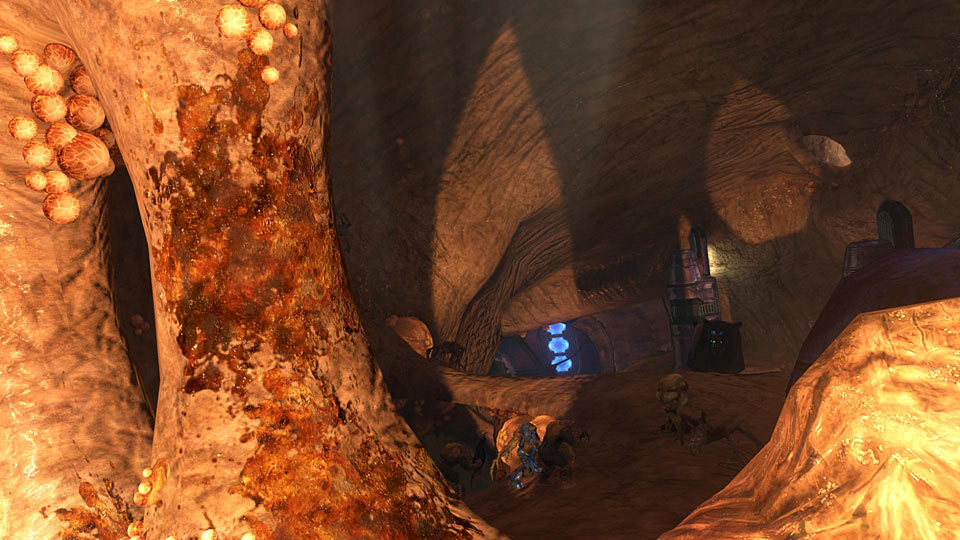 A storm is brewing in High Charity... were the sound designers influenced by glacial calving?
Cortana is the series campaign debut of the flamethrower. It throws flames.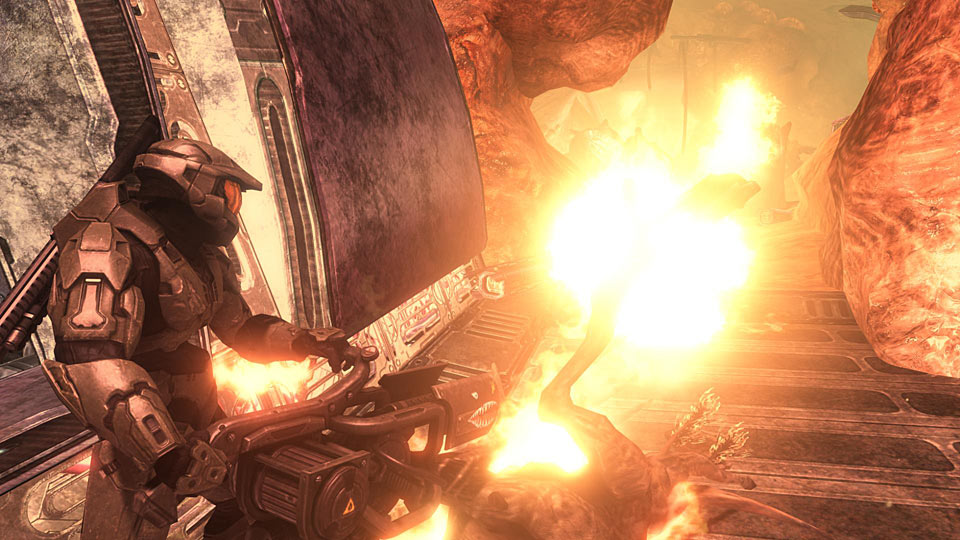 Midway through the level we arrive at a long hallway, showing off twisting paths and spiderwebbing.


Cortana.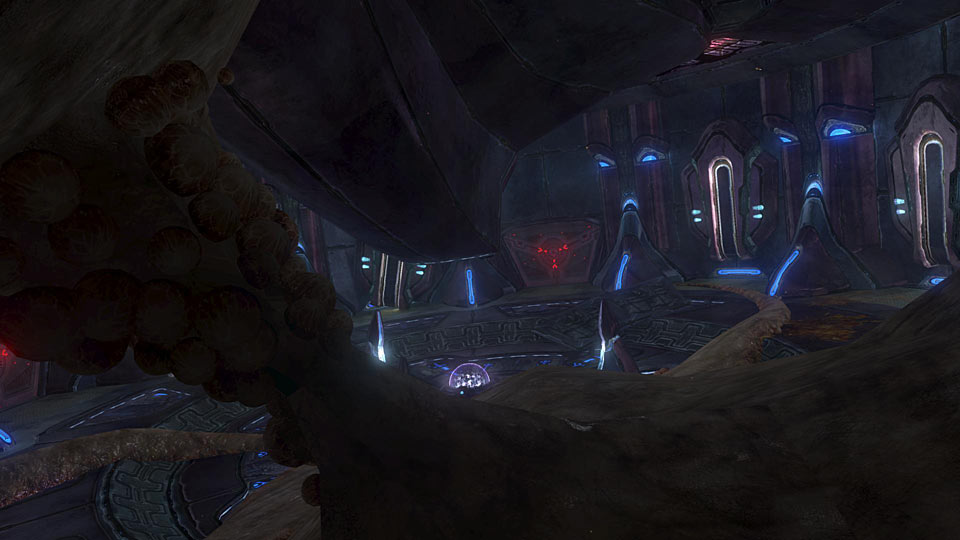 Well, time to blow the place. Although Cortana is Halo 3's reference to Halo 2, this is the first of two levels to finish with a taste of The Maw.
We leave High Charity with Cortana... and with the Index from Installation 04.
//============================
At the opening of Halo, I am joined by shift51, ThrustMicrobe4, and ShadowOfTheVoid. Halo 3's expansion to online coop permitted, for the first time in the series, 4-player coop.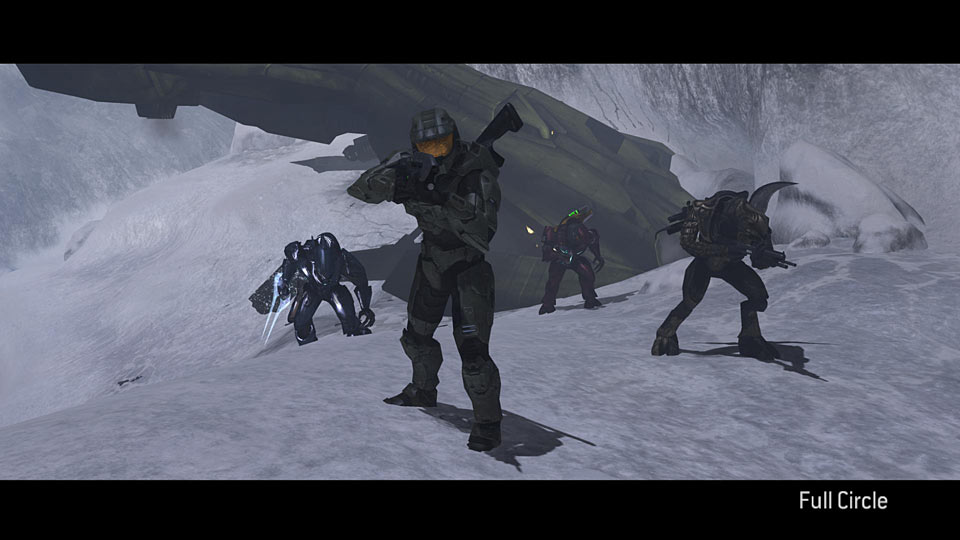 Full Circle. This ring is new, but in a sense, we're back where it all began. A hint of Under Cover of Night is playing, this time sad and longing. We have come to reclaim the terrifying yet beautiful Ark... but on this assault on the control room, we already know that we must destroy it all. Then we'll head through the portal, and we'll all go home.
But first, we need to get our bearings.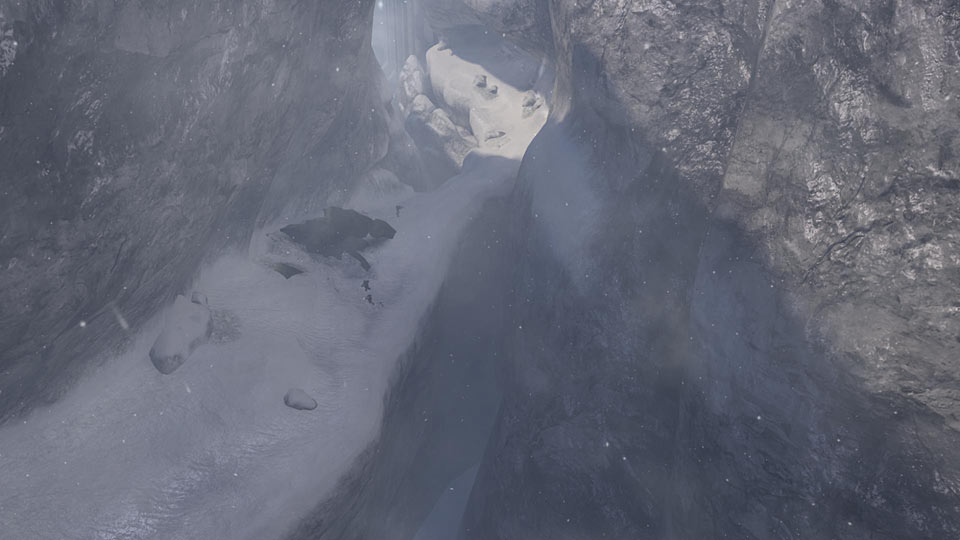 Like the Halo 1 classic, we are in steep canyons with walkable paths high above the floor. The sky isn't as obscured by clouds as in the original level, but it's hard to get a really good look at the sky. So we set out along the lonely path, toward a cave.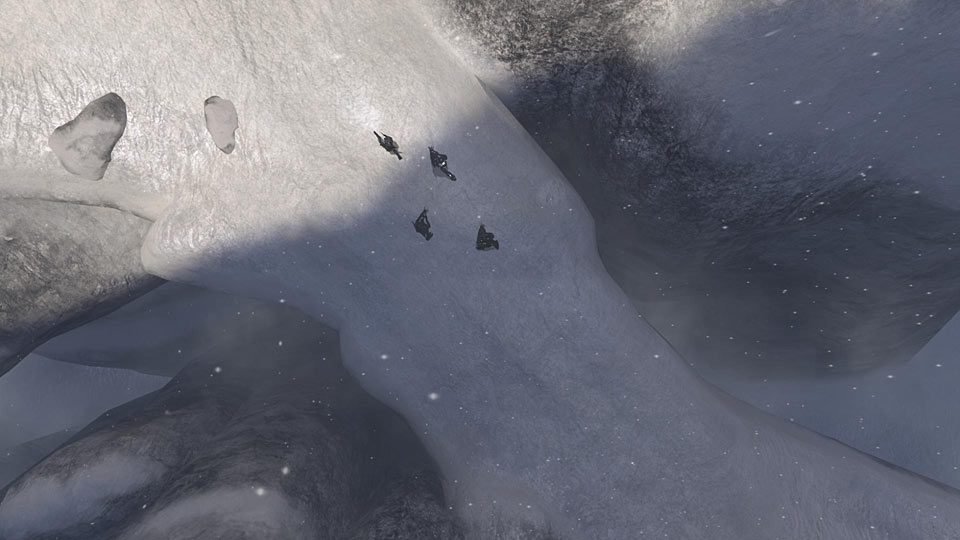 There are no enemies to be found in the cave, but it is very important because of two branches. The first is simply a short path to a skull... exciting, but not our main attraction today.
We see a side path to a slim Forerunner hall, and investigate it... to find perhaps the biggest hit of nostalgia in the entire series. Heavy blue light and a pulsing drone present a phase pulse generator room.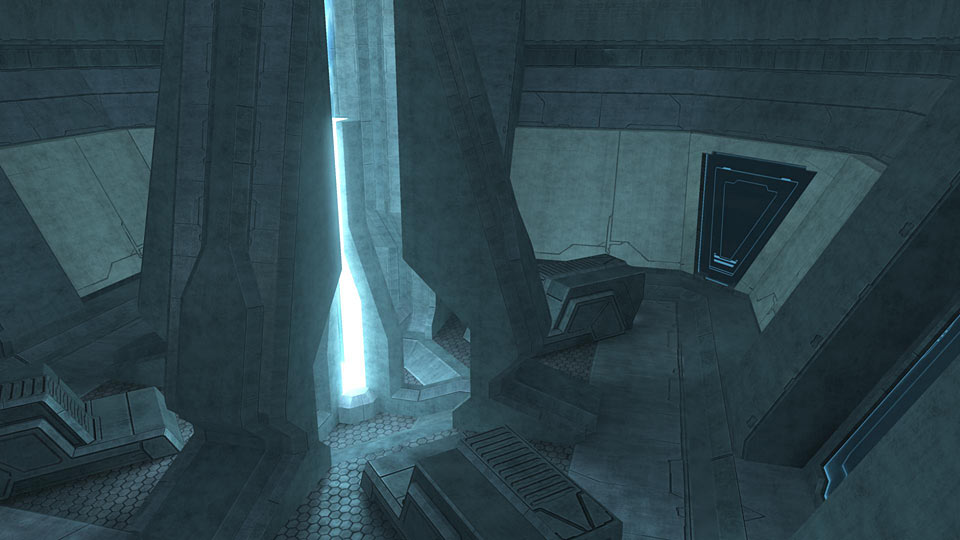 A soft glow emanating from blocky objects, and strips of lights, remind us of the art style of Halo: Combat Evolved.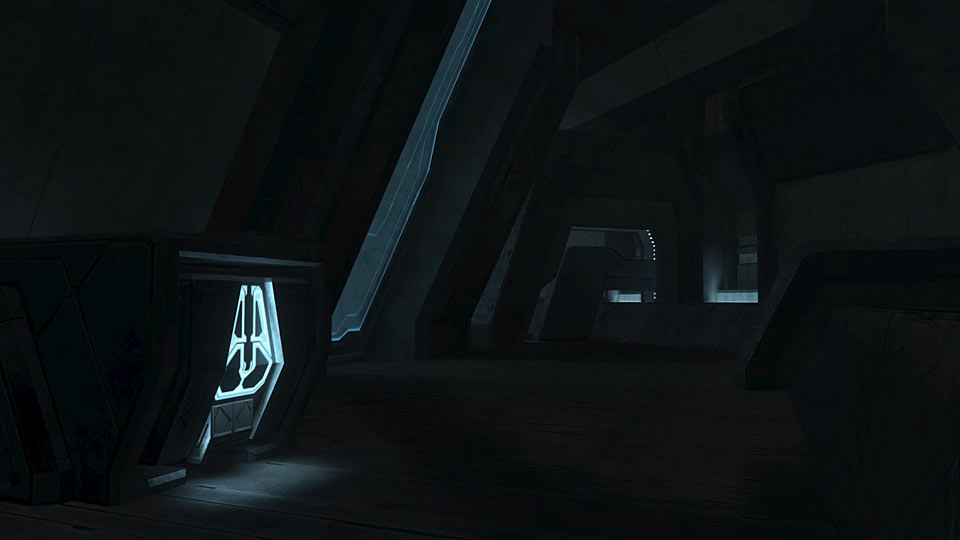 Everything about the room is simple, poignant, and mysterious, including the terminal and the unfinished entrance. Were we not here to destroy the place, our own entryway would eventually be closed off by a wall during the ring's completion.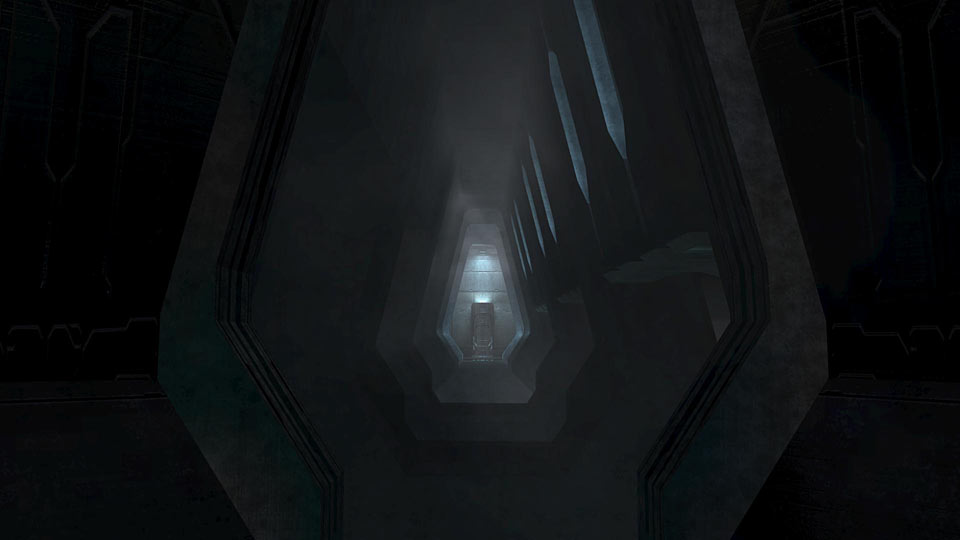 After some time, we exit the pulse generator room, to continue through the cave.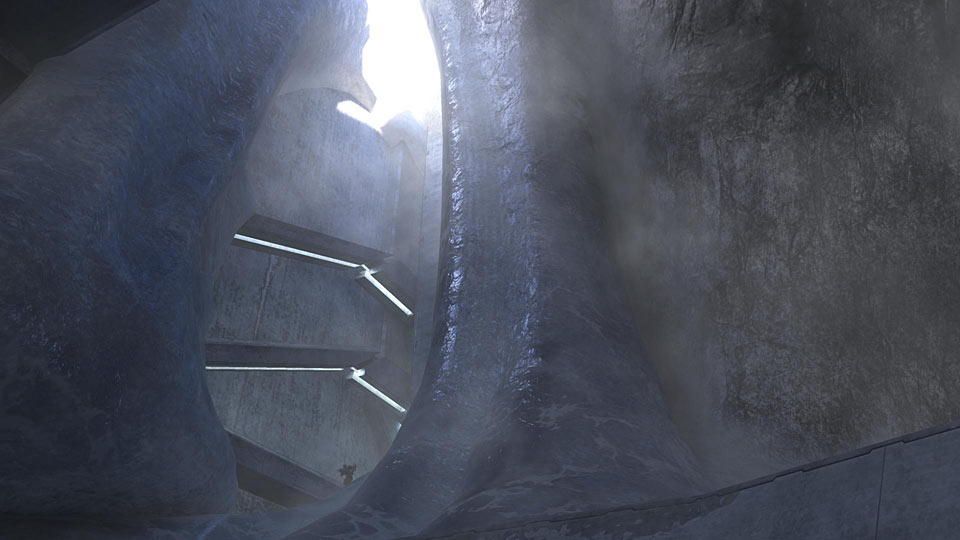 When we emerge, we find ourselves at the feet of the ziggurat.

It's not exactly the same design as the original ziggurat, but its silhouette has many features in common. What it doesn't have in common, as we look to the sky, is... oh my.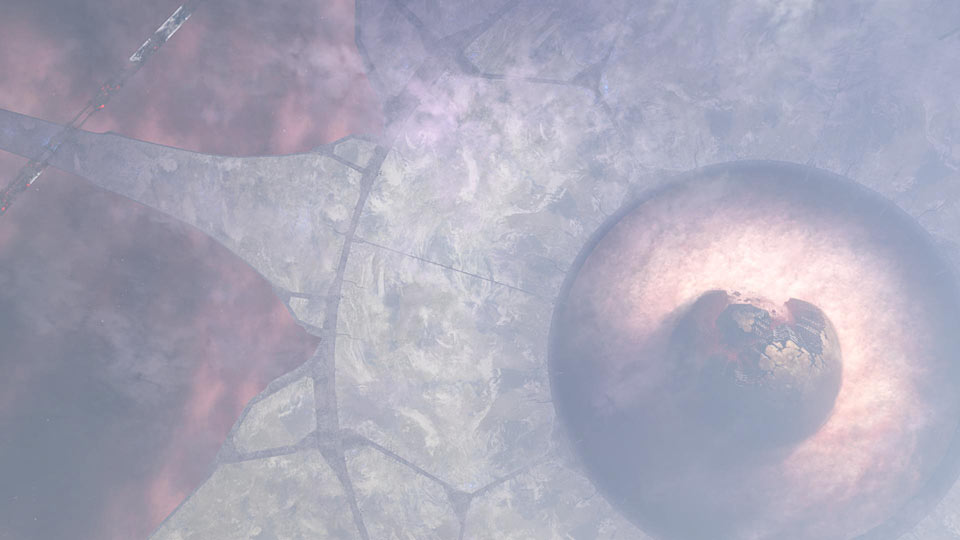 And that right there is the eye of the Ark, looking down on us. Coupled with the Flood now falling from the sky, it reminds us that we have to snap out of this reminiscing and blow some stuff up. So that's what we do. Or at least, that's what all of us who aren't ThrustMicrobe4 do. That guy is fascinated by the adorable Flood pure forms.
Anyway, to cut a short story shorter, we make our way to the control room. Things go awry, and in an effort to save the galaxy, Johnson takes his final shot.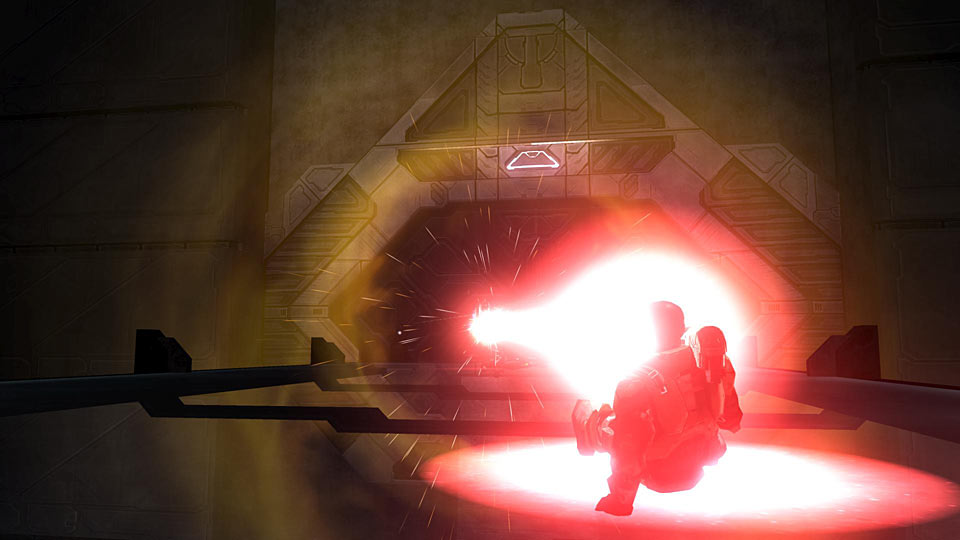 Sarge does not expend the laser, though. Turns out someone loaded it with a lot of ammo.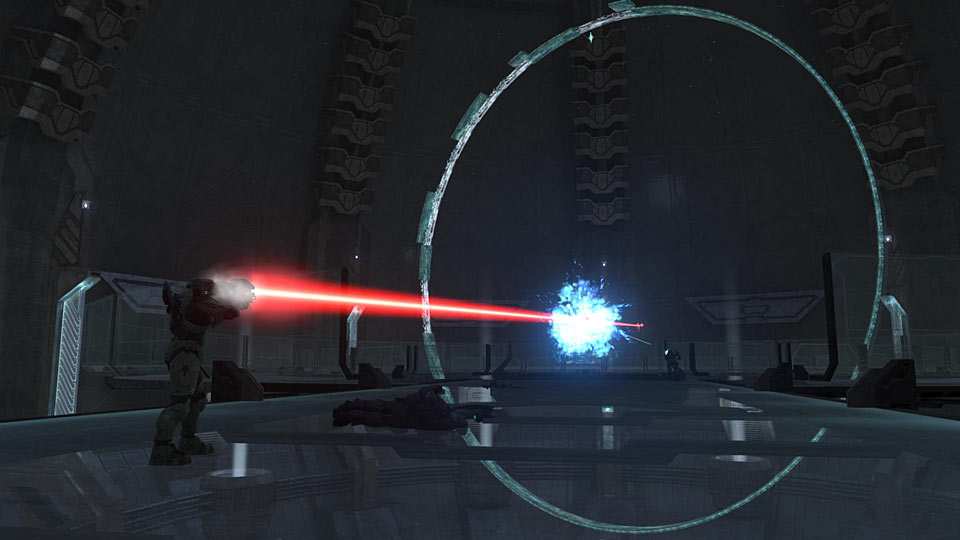 With the lightbulb exploded, we can fire the ring and head outside. The ring seems a little unhappy with our attempt to light it, though. When we glance upward... oh my.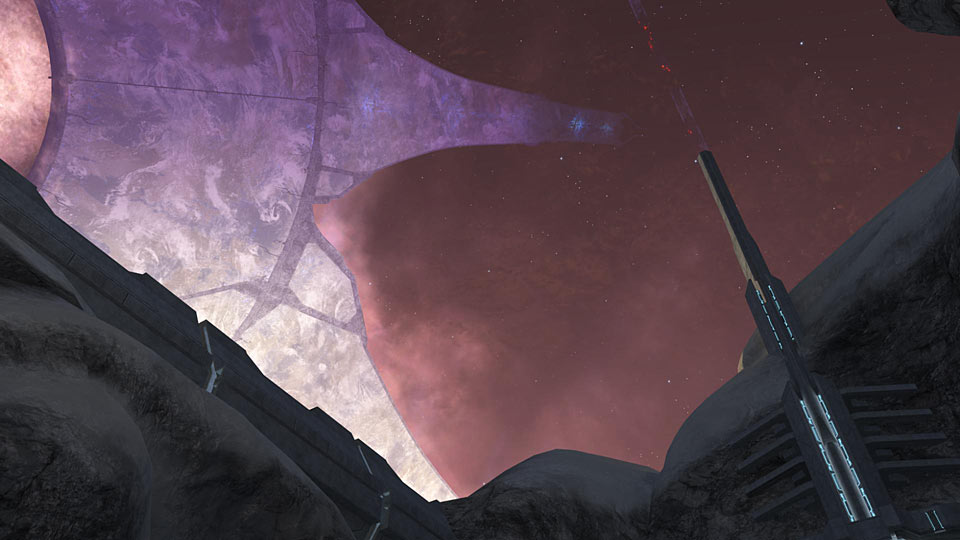 Burning skies, eh? That's usually not a good sign.
Johnson is gone, but retracing his steps should bring us home. So we head through another phase pulse generator area. Here we see a more complete version of the hallway from earlier, highly reminiscient of a few sections in Halo 1.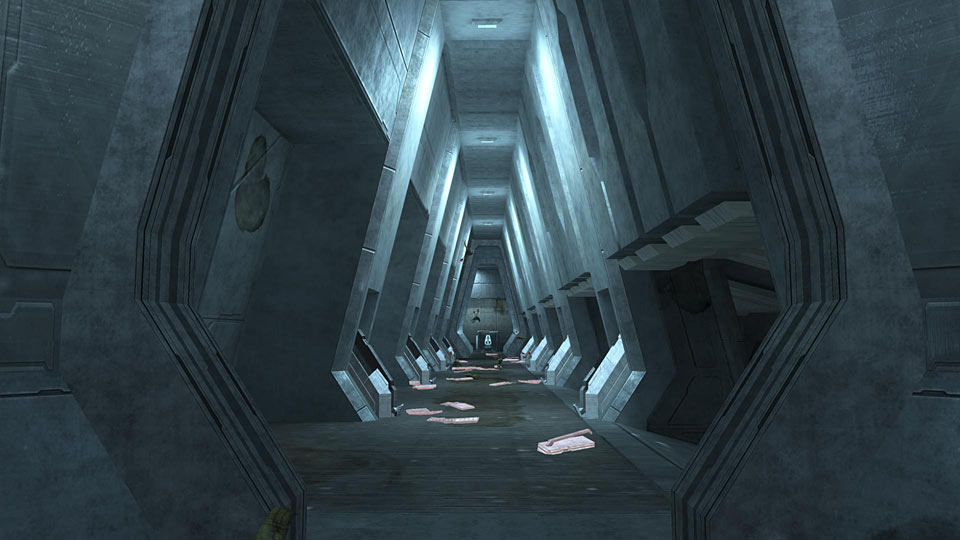 The Forward Unto Dawn is still a long ways off. We are concerned; there are four of us, and Johnson only drove himselve from the frigate. We are relieved and fascinated when we step outside and learn that he somehow managed to bring several vehicles with him.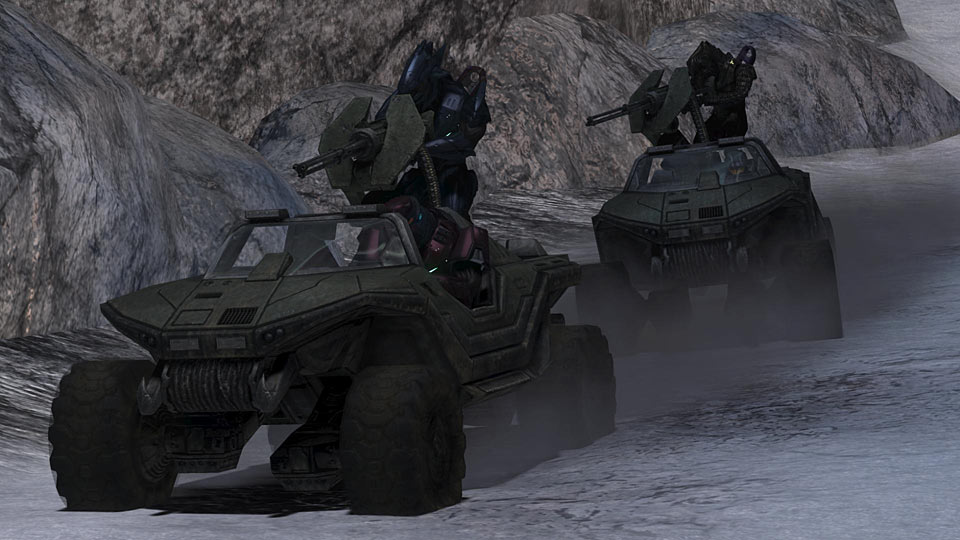 It is here that we get a good sense for just how unfinished the ring is.

And when you combine unfinishedness with earth-shattering impending doom, things start to break down.
At a glance, this area looks very sparse. It is actually very fleshed out. Bungie did not place high levels of detail everywhere, but they made sure that everywhere had detail... such as these struts that you might never notice unless you fall and get killed.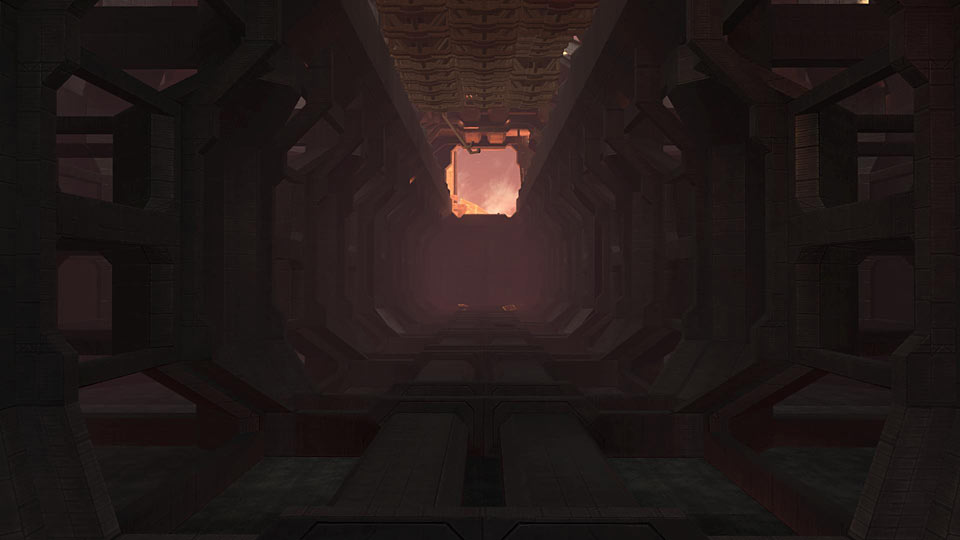 Speaking of which, OH CRAP OH CRAP OH CRAP.
Does the artificial sun ever set on the Ark? Well, it will soon.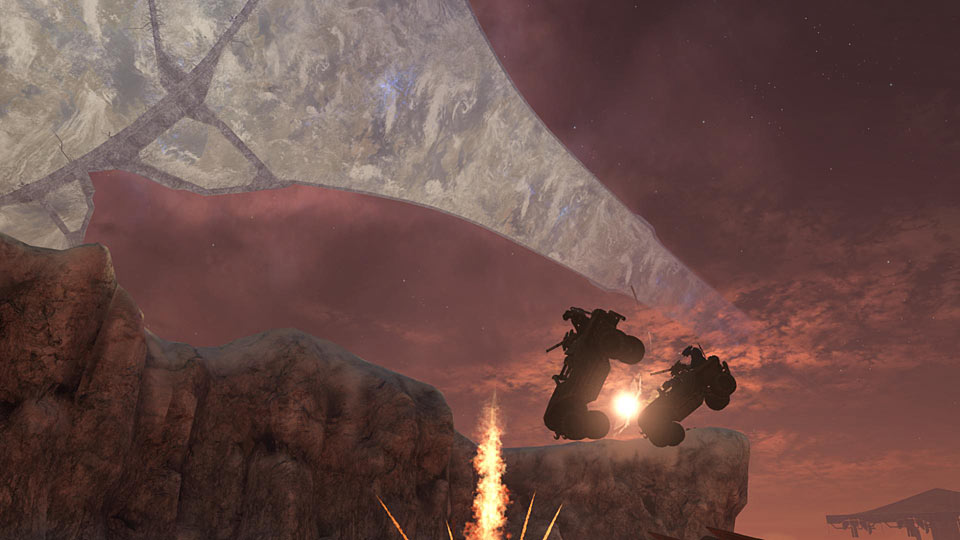 Taking a moment to neglect the urgency, ThrustMicrobe4 stares into the distance, admiring the young Halo.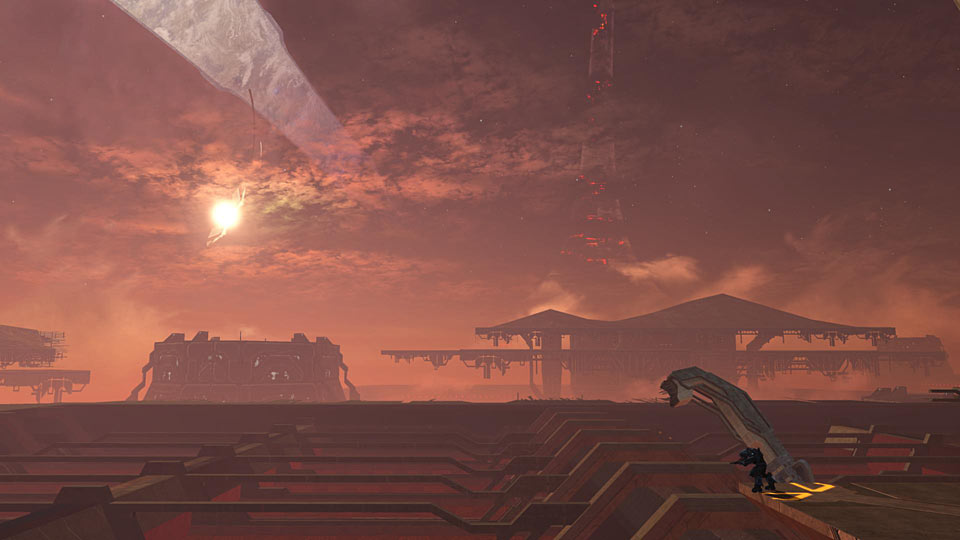 Its life was short, but it burned bright. And it burned blue.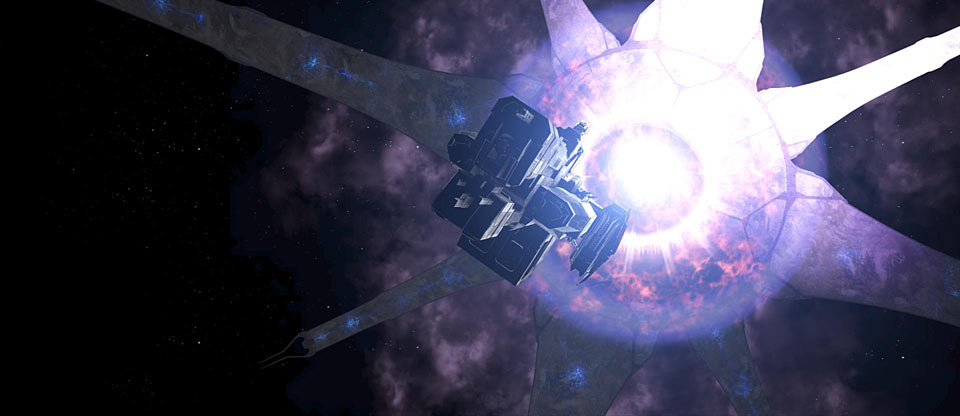 And in a moment... it was finished.