Stonehenge and a round island. A perfect fit in Anvilhenge.
Please find in my DEEP NNN fileshare a copy of this map. It has been tested by 2old2play for CTF and Slayer and seems to work well enough for your Customs enjoyment. Easily supports 4v4 to 8v8.
I have once again created a reasonably exact reconstruction of Stonehenge's major stone structures as they would have looked if new.
The map will see minor tweaks over time as well as more gametypes like Extraction.
Callouts are fairly easy to remember.
One tree
Two trees
Three trees
Four Trees
One Antenna
Two Antennae
Altar Stone
Red/Blue Structures, ring, trilithons
Yellow fence/bridge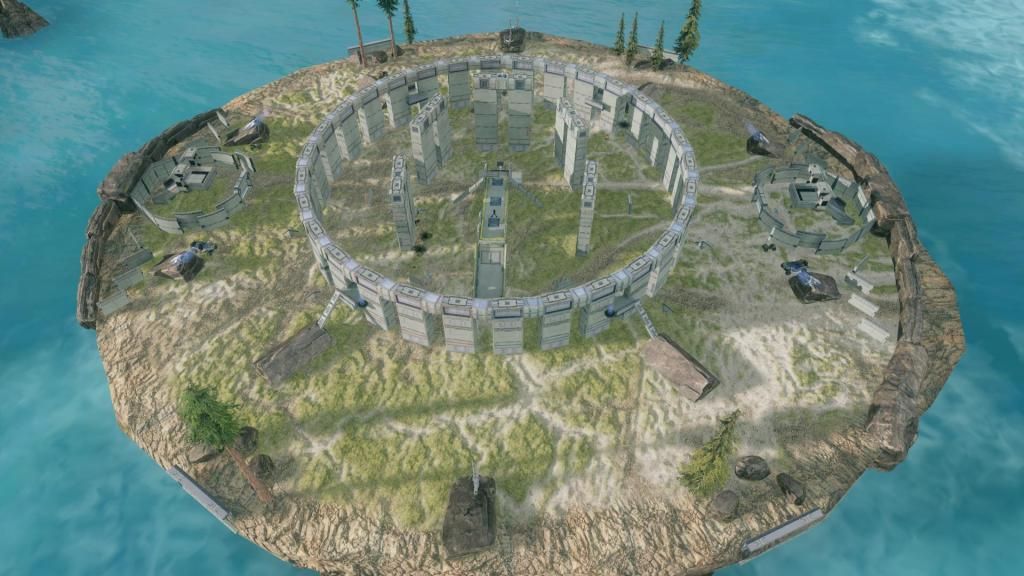 http://i16.photobucket.com/albums/b41/DEEP_NNN/ugcuserfile-feb8cd9f-7278-4f4a-9ce8-2231361ccbd5-f8446dd48b41ddaf-full_zps90854f8d.jpg
http://i16.photobucket.com/albums/b41/DEEP_NNN/ugcuserfile-73094e2d-02f2-4b32-9594-a60656f5abfb-f22a553d99299f83-full_zps65becf9f.jpg
http://i16.photobucket.com/albums/b41/DEEP_NNN/ugcuserfile-102dd280-acc7-450b-8495-2f72f1f13391-e1cbcbe36ab7d90c-full_zps3eea065d.jpg
http://i16.photobucket.com/albums/b41/DEEP_NNN/ugcuserfile-62af28e6-cfd8-4b07-87d3-189090825cb2-1aa57c643cedc9a0-full_zpsc6078c63.jpg
http://i16.photobucket.com/albums/b41/DEEP_NNN/ugcuserfile-09317910-9315-4fca-98ab-53df7626154b-4033c88121454c41-full_zps22d9a3ce.jpg